This post was originally published on
this site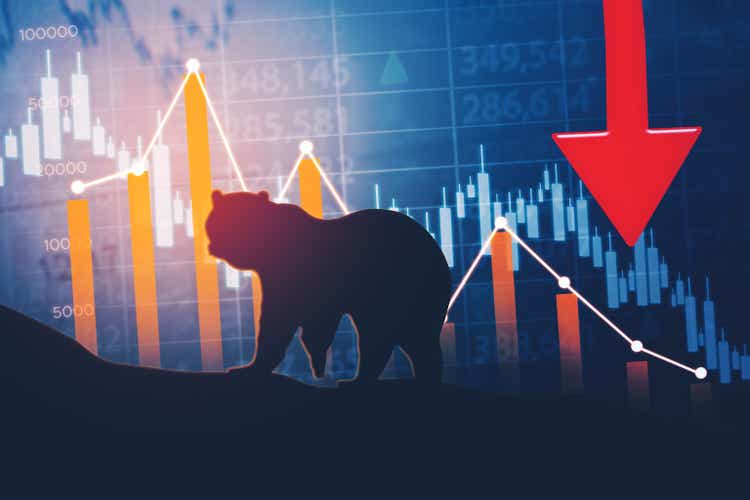 Rallies in the SPX continue to fade and the trend remains firmly to the downside. The failed upside break we saw last month in response to the lower than expected CPI print has given way to renewed weakness. Valuations remain completely out of line with the earnings and dividend growth outlook, while the equity risk premium is wafer thin. It would take a 70% decline in the SPX for the equity risk premium to return to its long-term average, assuming 1% real future dividend growth.
Bearish Trend Is Firmly Intact
Bear markets tend to end in capitulation selling and extreme negative sentiment, and neither of these conditions are present today. Price action has been fairly stable since the market peak, with the SPX showing very few signs of the kind of panic selling that tends to mark stable market lows. The volatility index and credit spreads also remain stable, indicating a lack of fear.
The market continues to respect down trendline resistance from the January 2022 all-time high. While bulls made an attempt to break above here in reaction to last month's CPI drop, the failure to close above it highlights the strength of the downtrend.
Valuations Remain Extreme And Free Cash Flows Are In Decline
On the face of it the PE ratio on the SPX of 18.8x may sound reasonable. After all, it is below its long-term average going back to 1991 and significantly below its 32.3x high in March 2021. However, the devil is in the detail. Earnings remain extremely and unsustainably elevated relative to all other corporate fundamentals.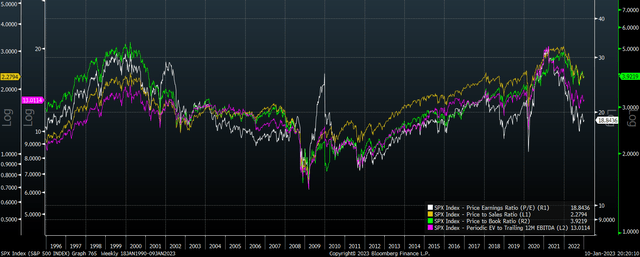 The price/sales, price/book, and EV/EBITDA ratios all remain extremely elevated versus their long-term averages. I have written extensively about the risks facing profit margins amid a narrowing fiscal deficit, rising wage pressures, and a chronically low national savings rate. These structural headwinds to margins are joined by growing cyclical headwinds as the economy continues to slow. We have already seen free cash flows fall significantly, dropping 9% since their peak in April. This suggests that the record high earnings embedded in the 18.8x PE ratio are to be taken with a large grain of salt as companies are dramatically underreporting true capex costs.
If the economy falls into a deep recession, we are likely to see cash flows fall much further. The last three recessions saw earnings fall by 29%, 53%, and 21%. It took earnings 3 years to recover their peak following the 2001 recession and 4 years following the Great Recession. The recovery from the Covid crash, which took just 18 months, is unlikely to be repeated as it will take policymakers a long time to unwind their tightening policies and reflate the economy.
Equity Risk Premium Is Wafer Thin
Over recent years investors have looked to justify high stock valuations by noting that low bond yields mean the equity risk premium is low. This is now no longer the case. The SPX has returned 10.8% annually in the post-WW2 era, over which period the 10-year UST yield has averaged 5.3%, meaning that the long-term average equity risk premium has been 5.5%. If this is the equity risk premium that we should apply to the SPX currently, then with the 10-year bond yield at 3.6%, this means that stocks would have to be priced to return 9.1% annually over the long term.
With the SPX dividend yield at 1.7% and 10-year breakeven inflation expectations at 2.2%, dividends would have to grow by 5.2% annually in real terms to justify the current equity risk premium. In reality real dividends are likely to grow by less than 1% over the long term, constrained by weak real GDP growth and falling profit margins. If investors were to apply a 1% real GDP growth and dividend long-term growth rate, and require an equity risk premium in line with the long term average, the dividend yield would have to rise to around 6%. That equated to a price fall of over 70%. While this is not a forecast, it should serve as a warning to anyone looking to buy US stocks here.