This post was originally published on
this site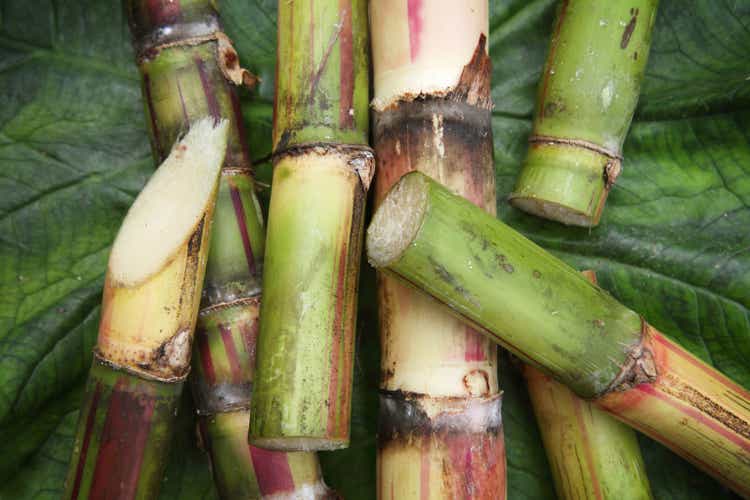 Brazilian conglomerate Cosan (NYSE:CSAN) is a complicated story in the best of times, as this company pursues a holding company structure to invest in a wide range of businesses, including its Raizen joint venture with Shell (SHEL) in sugar, ethanol, and retail fueling, its Rumo rail operations, and other businesses like natural gas distribution, lubricants, and land development. On top of this "chosen" complexity, the company is now also dealing with a more volatile environment for its core sugar, ethanol, and energy (or SEE) operations, with weaker ethanol prices in Brazil and more risk in the sugar market.
Cosan is a difficult stock to recommend in some respects, as there are a lot of moving parts to track and this isn't the easiest investment for investors to assess. I do believe management has built a track record of value creation, but it looks as though the business will only get more complex and diversified over time. I do believe this pullback in the shares is an opportunity for investors who can look past increased near-term volatility, but this isn't really a "sleep well at night" sort of stock.
Weaker Ethanol Prices Are A Challenge Now, And Sugar May Be Next
This has been a challenging year for Brazilian ethanol makers including Cosan, Adecoagro (AGRO), and Sao Martinho, as the industry has had to deal with challenging weather (which has impacted harvesting, crushing, and yields), a volatile Brazilian economy, weaker oil prices, and Brazilian tax policies that have pressured ethanol prices over the last nine months or so.
The price of hydrous ethanol in Brazil started 2022 at $0.59/liter, rose to over $0.80/liter in April, and has steadily declined since, ending the year at $0.55/liter and continuing to slide since then (around $0.52 recently). The Brazilian government suspended gasoline taxes earlier in 2022, ostensibly to help fight inflation (though likely also to curry favor with voters), and while producers and the market had been expecting newly-elected President Silva to reimpose taxes, he instead announced an extension of the tax breaks for at least another 60 days.
On top of that, there have been rumblings that the government may look to "intervene" to reduce fuel price volatility. Exactly what that could mean is still unknown, but the prospect of price caps has been raised.
In the short term, SEE producers have been able to offset weaker ethanol prices by diverting more production to sugar; while Cosan doesn't have quite the production flexibility that Adecoagro enjoys (and Cosan is far larger), it does nevertheless have room to maneuver. To that end, the company reported an 82% year-over-year increase in the volume of sugar sold in the third quarter (ethanol volume was up 12%), with realized prices up 11%.
Supply issues have kept sugar prices fairly strong. Trading in a range of $0.147/lb to $0.21/lb over the last two years (the #11 contract), recent prices are well in the $0.19's/lb, and that's an attractive price for SEE producers, as the spread to ethanol prices encourages more sugar production.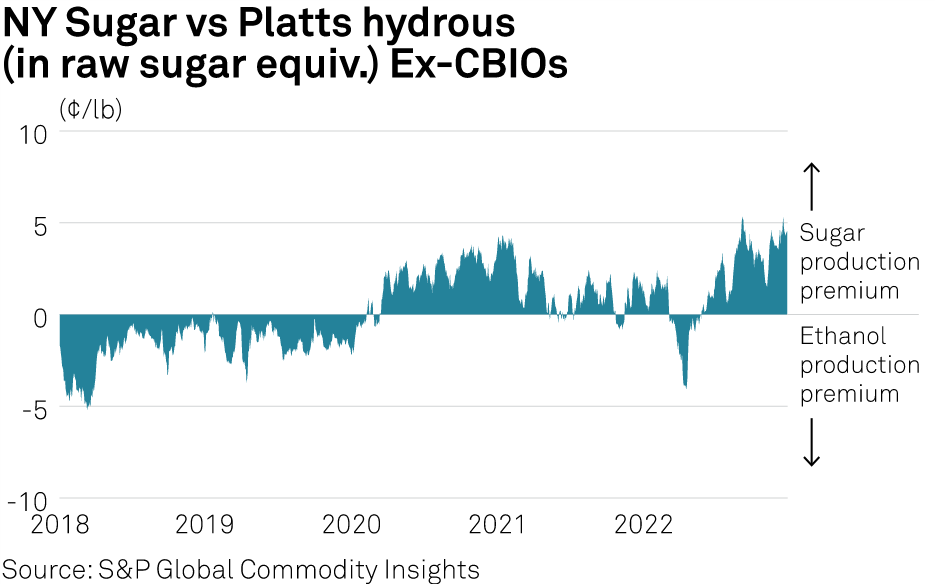 The risk is how this plays out in 2023. Pretty much every SEE producer that can produce more sugar is doing so, and I see a growing risk of pushing the sugar market into oversupply. The Indian government's decision to limit exports helps, as does the disruption to Russian sugar beet production, but good weather in areas like Thailand and more production from Brazilian producers (particularly if the weather is better this year) could see the market going 4M to 6M tons into surplus, and that's going to meaningfully pressure prices in 2023 and 2024.
Diversification Helps
The good news for Cosan investors is that this is a diversified business. Sugar and ethanol were about 60% of the Raizen EBITDA mix in the third quarter, and Cosan's stake in Raizen accounted for about one-third of the company's reported adjusted EBITDA. Rumo, the rail business where Cosan owns about 30%, generated more EBITDA than Raizen for Cosan this past quarter, though Raizen's contribution was 50% larger than Rumo's in the second quarter. Collectively, Compass (the gas distribution business) and Moove (the lubricants business) are likewise in the ballpark of Raizen's recent contributions to EBITDA.
Obviously these numbers are going to move around meaningfully from quarter to quarter, as the rail business has seasonal elements and commodity market moves can significantly impact Raizen. My point is more that Cosan has other businesses that contribute meaningfully to earnings and that aren't correlated with the same dynamics as the SEE operations.
I continue to be bullish on Rumo. The company has made great strides in improving operations over the years that Cosan has been involved, including refreshing the fixed and rolling stock asset bases and expanding operations. Brazil is still meaningfully underserved by rail, and as I see demand for Brazilian crops and natural resources continuing to grow, I believe this is a business with a lot of profitable growth in its future.
… But Diversification Can Also Hurt (At Least Temporarily)
Not all of Cosan's diversification efforts are universally applauded, and the shares sold off back in October when the company announced that it was acquiring a 6.5% stake in mining company Vale (VALE).
As is par for the course with Cosan, this transaction is complicated, with the company acquiring a direct 1.5% stake, an additional 3.4% economic and voting stake through collared derivatives, and a further 1.6% economic stake through a forward/collar structure. Management has sought approval from Brazil's antitrust regulator (known as CADE) to hold a 6.5% voting stake.
The initial outlay for the position was R$8B, which Cosan is funding with redeemable preferred share tied to a special purpose vehicle that will receive dividends from stakes held in Raizen and Compass, and the company will use additional derivative structures to fund another R$13B over a period of up to five years. Going further into the details, Cosan will basically be looking to channel cash generated by its current portfolio to fund the final purchase price, but will also use debt when and if it needs to (management has stated they won't issue shares to fund the transaction).
I can see at least some of the appeal in owning Vale; I don't see demand for Vale's iron or nickel declining over the long term, and Vale's nickel operations are rather efficient from a CO2/tonne perspective. Cosan already has some involvement in mining (an iron ore port in northern Brazil and the option to invest in a mining project), and this move had been rumored for some time.
The Outlook
The biggest near-term modeling risk with Cosan is the potential for ongoing weakness in ethanol prices and a future decline in sugar prices as more Brazilian sugar reaches the global market. While Adecoagro has offset some of the ethanol pressures by exporting production to Europe, I haven't heard Cosan discuss that, and I'm not sure whether it's something they can do in meaningful volumes. In any case, the primary modeling risk here over the next 12-24 months is within the Raizen ethanol and sugar operations.
Longer term, I still expect 5% to 6% revenue growth from Cosan, with adjusted free cash flows averaging out in the low single-digits, but still driving strong free cash flow growth – free cash flow that will go to shareholders (in part) and toward further investments in cash-generating assets.
Between discounted cash flow and EV/EBITDA, I believe fair value for Cosan's ADRs is now in the high teens to low-$20's ($17 to $22). That's a large range, but it reflects the modeling uncertainty with the ethanol and sugar businesses today, as well as weaker sentiment toward Brazilian ag-exposed equities and Cosan's ongoing diversification/investment initiatives.
The Bottom Line
Conglomerate businesses have fallen out of favor in the U.S. and Europe, with many one-time conglomerates selling or spinning off units and reducing the complexity of their operations. Cosan is clearly comfortable going the other direction, and I expect more moves like the Vale investment in the future (including IPOs for partial stakes in the Compass and Moove segments). Added to the uncertainties in the SEE outlook, it makes for near-term sentiment headwinds as well as near-term risk in the reported results.
I don't want to underplay the risk that SEE pricing could be weaker than I expect, but I think my numbers are fairly conservative now. This is never going to be a stock for nervous investors, but given management's track record, sell-offs are usually a good time to do some due diligence and consider adding shares.