This post was originally published on
this site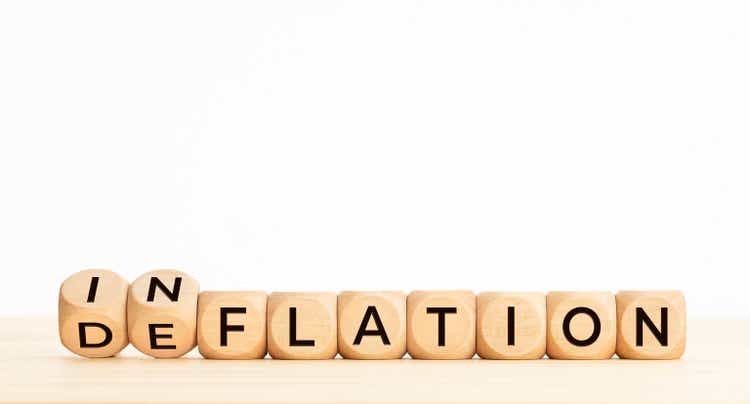 Stocks have posted strong gains to start a year in which the bears continue to warn us we will see new lows in the S&P 500, as well as a recession to boot. They better get busy, because time is not on their side. JPMorgan CEO Jamie Dimon is backing away from his forecast for an "economic hurricane," and Nobel-prize-winning economist Paul Krugman's concerns are abating, as he now sees better chances for a soft landing this year. These are examples of sentiment improving from some of the worst levels in more than a decade, and that can become infectious over time. Investors start looking beyond the valley as the headwinds everyone is already aware of start to give way to tailwinds.
As I mentioned yesterday, some of last year's strongest headwinds have already turned. China's reopening from an overbearing pandemic policy should produce a meaningful increase in economic growth this year. The energy crisis expected in Europe has been headed off with much warmer weather, which is leading to forecasts for modest growth this year. The dollar peaked three months ago and should be declining on a year-over-year basis by the second quarter. I think this helps explain why stocks have been holding their ground over the past three months, but the most important rate of positive change is for inflation, which posted another meaningful decline for a third month in a row this morning.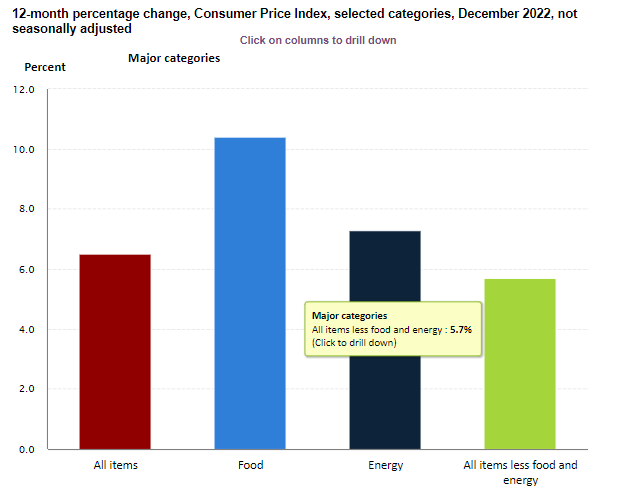 In fact, the Consumer Price Index decreased by -0.1% for the month of December, which was in line with expectations, resulting in a year-over-year increase of 6.5% that is down from 7.1% in November. This is the lowest rate of inflation in 16 months. The decrease was largely due to energy prices, which fell by 4.5% in December and for the fifth time in the past six months. The year-over-year increase in energy prices was nearly halved from 13.1% in November to 7.3% in December. We saw a very modest decrease in food prices on an annual basis, but the smallest monthly increase since last spring. That bodes well moving forward.
At the core, which excludes food and energy, the annual rate of increase fell from 6% in November to 5.7% in December. New vehicle prices fell for the first time on a monthly basis to join used car prices, which continue to plunge, while medical care and transportation services saw modest increases compared to the prior month's decreases. Shelter remains the largest contributor to the overall core rate of inflation, and it has yet to reflect the deflation that is already in the pipeline, but it will come as the year progresses. The rate of increase for new leases is plunging. New lease rates will be factored into the average gradually each month, lowering the average of all leases in force, but it takes 6-12 months for these new rates to overwhelm the trailing 12-month number.
Another factor weighing on new lease rate increases, which could eventually become decreases, is the supply of new multi-family units. Because of sky-high rent increases last year, builders have focused their attention on this market, with new builds now surpassing Great Financial Crisis highs.
The reaction to this morning's report looks bullish, as I have been expecting, but it should be somewhat tempered given the surge in stock prices we have seen to start the year. After last month's stellar inflation report, stocks surged after expectations for rate increases in both February and March of this year were cut in half from 50 basis points to just 25 basis points. Those probabilities increased sharply after the release of this morning's report, and interest rates are plunging across the yield curve. This is why stock prices look to open higher.
I think today's report also increases the likelihood that the October lows for the S&P 500 are firmly behind us. The terminal rate for Fed funds should be well below what the Fed has been forecasting, and the rate of inflation is likely to fall at a more rapid rate than its forecast as well. Regardless, Fed officials will talk tough in an attempt to contain enthusiasm for risk assets and prevent financial conditions from loosening, but a soft landing remains my base case, along with the beginnings of a new bull market.