This post was originally published on
this site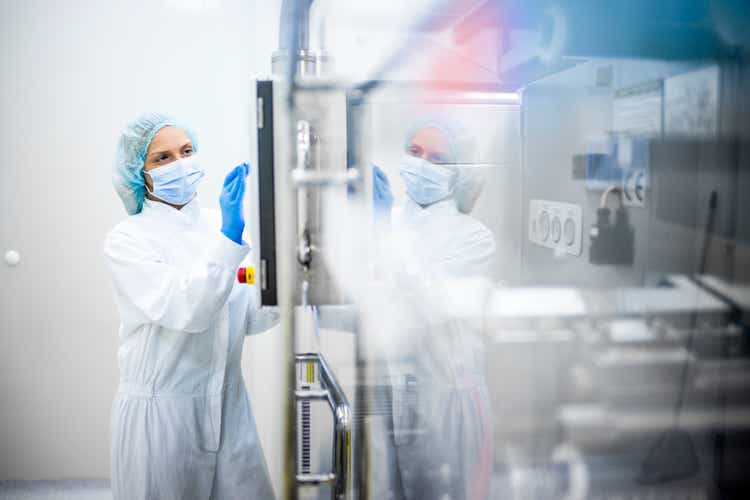 Last October, in an article, I left Zymeworks (NASDAQ:ZYME) with a promise of Biliary Tract Cancer pivotal data of zanidatamab zovodotin by the end of 2022, which I considered a major catalyst for this small-cap company. As late as in their November earnings call, the company noted:
[T]opline clinical data from HERIZON-BTC-01 study…is currently expected before the end of 2022.
On December 19, the company announced topline data from this trial. The company press release said:
Zanidatamab as monotherapy produced a confirmed objective response rate (cORR') of 41.3% and median duration of response of 12.9 months in patients with previously treated HER2-amplified and expressing biliary tract cancers (BTC')

Pending receipt of regulatory approvals, zanidatamab has the potential to be the first HER2-targeted therapy for patients with BTC
However, in September-October 2022, the FDA approved two new therapies for BTC – AstraZeneca's durvalumab (brand name Imfinzi) in combination with gemcitabine and cisplatin for adult patients with locally advanced or metastatic biliary tract cancer, and Futibatinib (Lytgobi) for use in adult patients with previously treated, unresectable, locally advanced, or metastatic intrahepatic cholangiocarcinoma harboring fibroblast growth factor receptor 2 (FGFR2) gene fusions or other rearrangements. Lytgobi was developed by Taiho Oncology, a subsidiary of Otsuka. Other FDA-approved targeted therapies for BTC are pemigatinib (Pemazyre), infigratinib (Truseltiq), ivosidenib (Tibsovo), dabrafenib (Tafinlar) in combination with trametinib (Mekinist), which are all targeted therapies directed at various genetic mutations and sub-indications.
In immunotherapies, besides Imfinzi, other therapies include Pembrolizumab (Keytruda) and nivolumab (Opdivo) that are approved for all microsatellite instability-high (MSI-H) tumors, including for MSI-H bile duct cancer. So this is a diverse and competitive market, however none of these target therapies target HER2, which is where Zanidatamab comes in.
Thus, it does not make sense comparing Zanidatamab to another bTC-directed drug. However, just for reference, Lytgobi, which targets FGFR2, produced an objective response rate of 42% and median duration of response of 9.7 months in its pivotal trial. Pemigatinib, another FGFR2 directed targeted therapy, saw ORR of 35.5% at its pivotal trial. Infigratinib, another FGFR2 therapy, had a 23.1% ORR. This makes zanidatamab well-placed among related BTC drugs.
Zymeworks is now planning to approach regulators for accelerated approvals in a number of countries, since the phase 2b pivotal trial had patients from four continents. Kenneth Galbraith, Zymeworks' CEO, said:
The goal for this study was to have a data set that would support accelerated approval in a number of different markets outside the US. And so we'll pursue all those discussions where it makes sense with this dataset as quickly as we can.
At ASCO last year, Zymeworks presented data from zanidatamab in HER2+ breast cancer, which showed "one complete response and 18 partial responses in 21 evaluable patients on zanidatamab, showing a 90.5% response rate, and a six-month PFS of over 95%." This data compares favorably with Herceptin + Perjeta + docetaxel in the 1L HER2+ breast cancer, which had an ORR of 80.2% and a median PFS of 18.5 months. Analysts at SVB Leerink think that if zani is approved in this indication, it could fetch over $852mn in peak global sales.
In a recent press release, Zymeworks presented a number of key updates and list of 2022 accomplishments. Some of these later were:
While this list is fine, most of these things were covered in my previous article.
Financials
ZYME has a market cap of $502mn and cash balance of approximately $490 million, which excludes the "expected zanidatamab-related reimbursements pursuant to our agreement with Jazz for R&D expenses incurred in the fourth quarter of approximately $30 million." Current balance sheet shows a smaller amount, but this reflects the Jazz payment of $375mn. 2023 burn is expected to be between $90 million and $120 million. This gives them a cash runway to 2026.
However it is interesting to see that the market is valuing them at less than $50mn in enterprise value despite all that cash and pipeline, which is a discrepancy that gives us pause. (Their debt is around $30mn, so given their $502mn current market cap and cash of $490mn, the enterprise value is $42mn.) Either the company is heavily undervalued, or there's something that the market knows – or feels – that isn't so obvious to a casual read of ZYME.
In another piece of news, Dr Neil Josephson, MD, who was inducted as the Chief Medical Officer last year after the new CEO reshuffled the c-suite, will be leaving the company, and no replacement has been announced.
Bottom line
The December 19 data saw a quick 30% spike in ZYME, but it is otherwise a fairly stagnant stock. Since last year, the new CEO has made some changes, however, the effect of those on the stock price is not yet apparent. I will wait and see how this goes. The stock is up 45% since my buy call last October, however the current spike tells me I should hold the stock rather than buy.
About the TPT service
Thanks for reading. At the Total Pharma Tracker, we offer the following:-


Our Android app and website features a set of tools for DIY investors, including a work-in-progress software where you can enter any ticker and get extensive curated research material. 
For investors requiring hands-on support, our in-house experts go through our tools and find the best investible stocks, complete with buy/sell strategies and alerts.
Sign up now for our free trial, request access to our tools, and find out, at no cost to you, what we can do for you.