This post was originally published on
this site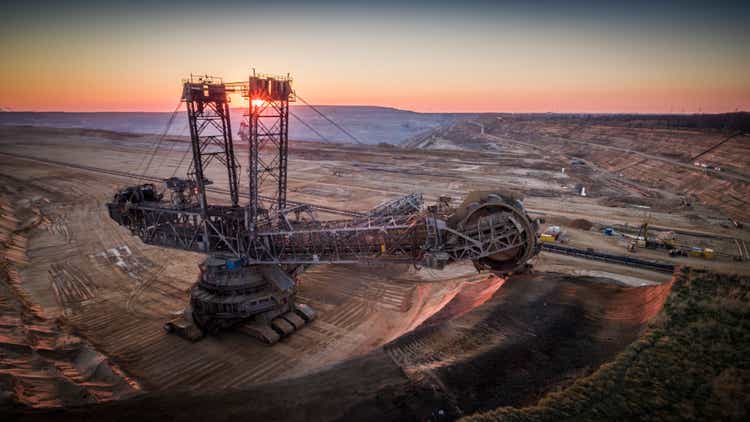 The First Trust Global Natural Resources Income ETF (NASDAQ:FTRI) invests in 50 companies that are the "highest dividend-yielding companies involved in the upstream segment of the natural resources sector." These segments are classified into five categories: Energy, Materials, Agriculture, Water and Timber. Over the past year, the fund paid out dividends of $1.15/share, which based on Friday's close of $14.60 is good enough for a 7.88% yield. That's a relatively strong and attractive yield. In addition, there can be no clean-energy transition without miners providing key materials like lithium, copper, and rare-Earth metals. That being the case, today, I'll take a closer look at this ETF to see if it might be worth a capital allocation within the "dividend income" and/or "materials" category of your well-diversified portfolio.
Investment Thesis
My followers know I advise building and maintaining a well-diversified portfolio and holding it through the market's up-and-down cycles. I would argue that the 2022 bear market demonstrated just how valuable such a portfolio construction can be, with categories such as consumer staples, health care, and I bonds helping to prop up an S&P 500 that was down ~14.3% over the past year.
My followers also know that I consider the dividend income category within a portfolio to be very important, although I have warned investors not to greatly over-emphasize that category – as seems to be the case with so many contributors on Seeking Alpha these days (see: Retirees Beware: Dividend Investing Is Overrated). As proof, note that despite the terrible mauling that technology stocks took during the 2022 bear market, the 5-year total returns of the Nasdaq-100 ETF (QQQ) are still significantly above that of the Schwab U.S. Dividend ETF (SCHD) and the Vanguard S&P 500 ETF (VOO):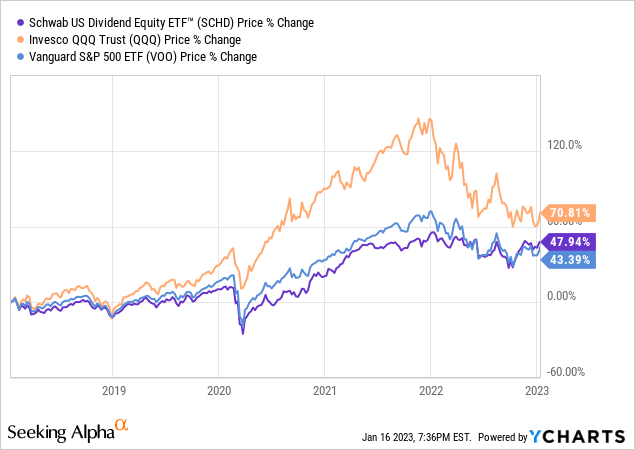 That said, I certainly hold dividend income stocks (and the SCHD ETF) in my personal portfolio, and I strongly advise investors to allocate capital to income-producing investments as well. That being the case, and in consideration that the clean-energy transition is greatly dependent on the materials miners producer, today, I'll take a close look at the FTRI ETF to see if it is worthy of an allocation of capital in your portfolio.
Top-10 Holdings
The top-10 holdings in the FTRI ETF are shown below and equate to what I consider to be a relatively concentrated 63.7% of the entire 50-company portfolio: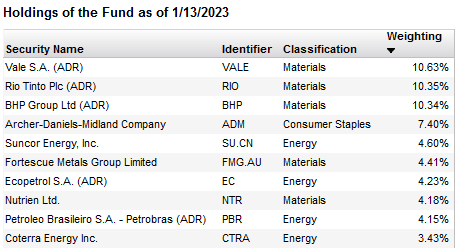 Global miners Vale (VALE), Rio Tinto (RIO), and BHP (BHP) hold down the top three positions, with relatively equal weights, and in aggregate equate to 31.3% of the entire portfolio. The companies also form the foundation of the income that FTRI throws off, with yields of 7.96%, 8.82%, and 10.10%, respectively. Given their weight, if you are not comfortable holding these miners, this ETF is not for you.
Vale, which produces iron-ore and iron-ore pellets for steel making, is benefiting from a 6-month high in steel prices due to favorable China demand forecasts as that country attempts to re-open in the face of Covid-19. Rio, which produces aluminum, copper, gold, iron ore, and lithium, is also benefiting from increased demand from China.
Likewise, BHP is up 15.8% over the past year, and the stock recently went on a tear when China lifted its ban on Australian coal.
All three of these top-three holdings have had a massive bull run over the past 3 months: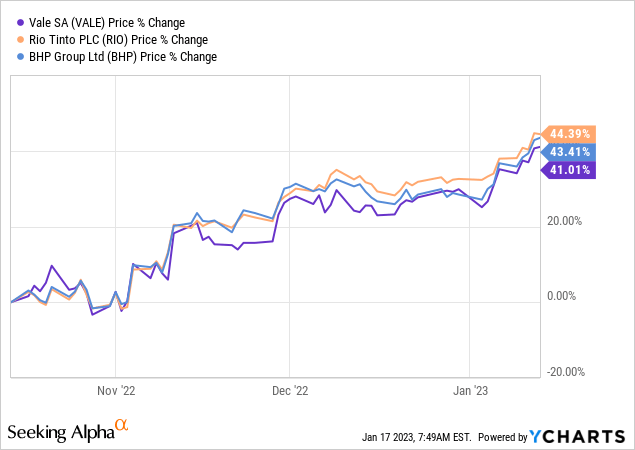 Still, and despite the bull run and the cyclical nature of the natural resource sector, these stocks still trade at reasonable P/E levels in my opinion: VALE with a forward P/E = 5.3x, Rio at 9.1x, and BHP at 13.9x.
The #5 holding is oil sands producer Suncor (SU) with a 4.6% weight. Suncor is a quizzical selection for an income-focused ETF that supposedly focuses on the "highest dividend-yielding companies" in its upstream sector. I say that because SU currently yields 4.77% while the TTM yields of shale companies like Pioneer Natural Resources (PXD) and EOG Resources (EOG) are considerably higher when you take into account their (base+variable) dividends. For instance, PXD paid out a total of $25.44/share in 2022 dividends. The stock closed Friday at $238.99, giving it a TTM yield of 10.6% – more than double SU's yield.
The top 10 is rounded out by Coterra Energy (CTRA) with a 3.43% weight. Coterra is a much better energy pick than SU considering the company paid out $2.49/share in 2022 dividends, giving it a 9.9% yield. Coterra is a shale O&G producer with significant leaseholds in the Marcellus, Permian, and Anadarko plays.
Performance
The FTRI ETF has a terrible 10-year total returns performance track record (-28%). That said, much of that was due to a massive drop in the share price between 2013 and 2016: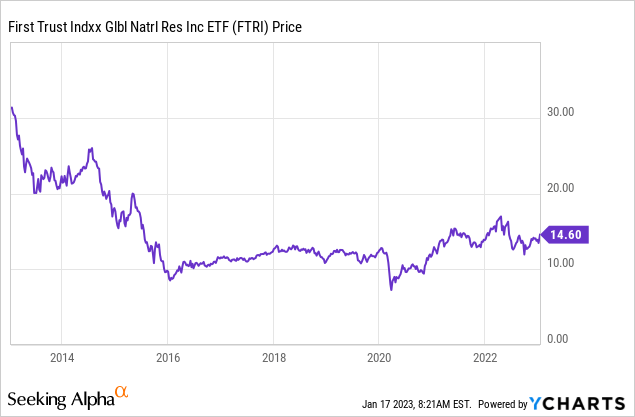 It is important to note that over the past 3 years, FTRI has outperformed the S&P 500 by ~11%.
The following graphic compares the 5-year total returns of the FTRI ETF against some of its peers: the Fidelity Natural Resources Fund (FNARX), the SPDR S&P Global Natural Resources ETF (GNR), the Vanguard Materials ETF (VAW), the SPDR Materials Sector ETF (XLB), and the Fidelity MSCI Materials ETF (FMAT):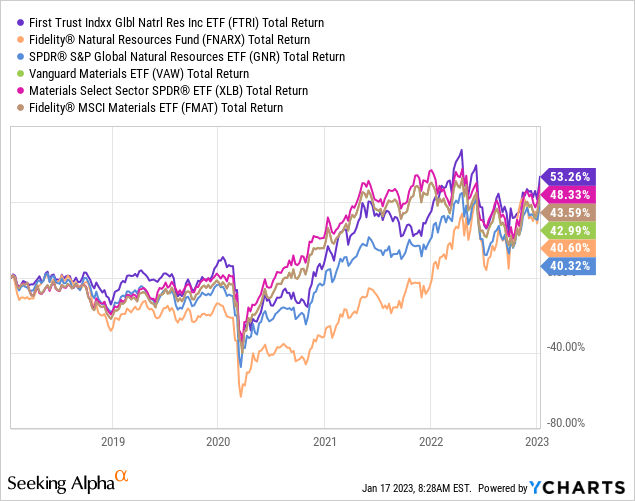 As can be seen, the FTRI ETF is the leader of the pack by nearly 5%.
Valuation Metrics
The following chart compares some typical valuation metrics of the FTRI ETF (as of year-end 2022) versus the broad S&P 500:
Source: Data for FTRI ETF is from the First Trust FTRI webpage. The source for S&P 500 metrics can be found by clicking on the links provided in that column.
As can be seen, despite its relatively high yield and the recent bull run in many of these stocks, the FTRI ETF arguably still represents significant value versus the broad market.
Risks
The FTRI has a relatively high expense fee (0.70%) as compared to what many investors are used to in the ETF arena. However, considering the FTRI ETF is a global-oriented fund, the expense fee is rational and is relatively low in comparison with the income (and total returns) it is delivering for investors.
Being a global fund, note that only 25.3% of the portfolio is composed of companies headquartered in the United States: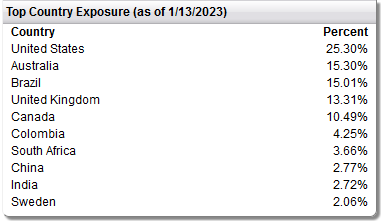 However, exposure to China is minimal, but with the recent coup attempt in Brazil (its own version of Jan 6th in the U.S.), the fund's 15% exposure to Brazil is a concern. But I suppose from that standpoint, so is the 25.3% exposure to the U.S. What can I say? We live in a strange world where many citizens no longer seem to understand the value of Democracy and the rule of law. In my opinion, that is a general and existential risk for all equities these days.
Regardless, being a global fund, FTRI is exposed to foreign currency risks. However, in my opinion, the US dollar peaked back in September: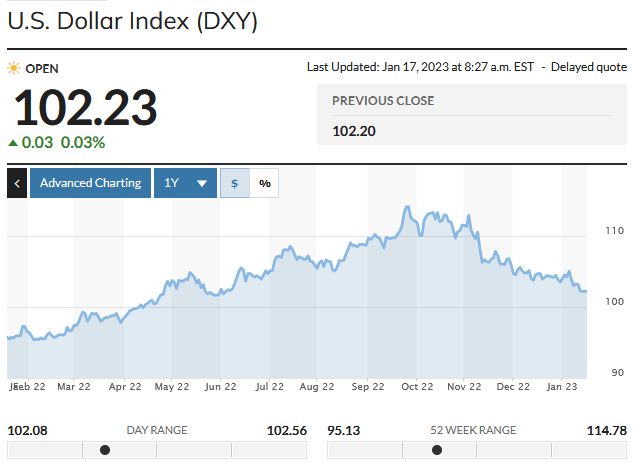 As long as future inflation data continues on its recent trend, I suspect the US Dollar Index is likely to fall back below 100 in Q1 of this year. This is bullish for the FTRI ETF and the falling U.S. dollar is likely one reason we have seen the big bull run in the miners over the past three months (the other primary reason being China re-opening).
The biggest risk for the FTRI ETF might be that the China re-opening doesn't go as planned, or that China starts visible support for Russia's conflict in Ukraine. The latter would likely result in sanctions by the U.S. and its Democratic and NATO allies which would negatively affect exports to China and reduce overall global demand for natural resources.
Summary And Conclusion
Despite my misgivings about the FTRI ETF given its puzzling inability to pick income-producing winners in the US shale oil industry, I like this fund and its positioning in the natural resource sector. Given the re-opening of China, the falling U.S. dollar, and combined with a continuing acceleration of the clean-energy transition, the demand for natural resources should remain relatively strong. That means prices for everything from lithium, to iron-ore, and copper are likely to stay strong, and that will be a strong catalyst for the earnings of these companies. FTRI is a BUY.