This post was originally published on
this site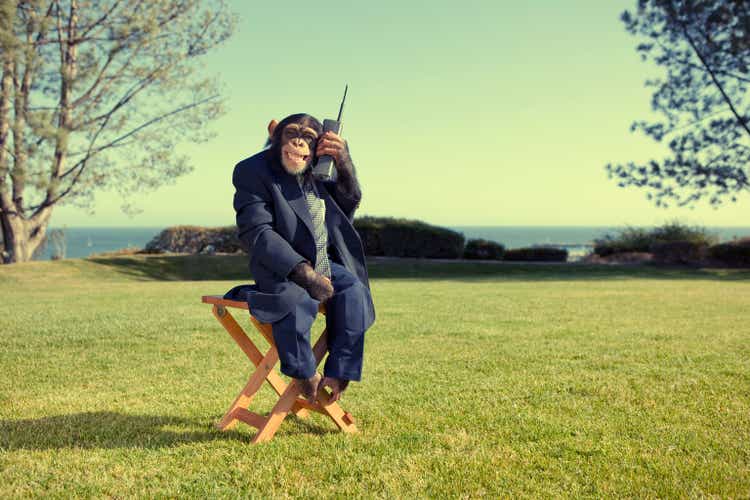 Meme Stock Mentions As An Indicator
The Tulip Mania (1637)
The South Sea Bubble (1711-1720)
The Japan Asset Price Bubble (1986-1991)
The Dot-com Bubble (1990s-2000)
The Housing Bubble (2000s)
The Bitcoin bubble (2013)
The Chinese Stock Market bubble (2015)
The

Crypto bubble (2017)
Investors have seen exactly what happens to the price of an asset when speculation and hype hit investors, retail traders in particular.
It could even be suggested that Elon Musk's brilliant PR and marketing strategies let to an over-inflating in Tesla's (TSLA) share price back in 2021. One thing we learned at that time was that we couldn't necessarily predict asset price rises based on online mentions, but we could use that information to see when price falls were likely to occur.
The same scenario is now playing out in real-time with Bed Bath & Beyond Inc. (NASDAQ:BBBY), with mentions of the stock peaking on WallStreetBets. In this article, we explore some background around the subreddit's infamous reputation, similarities with GameStop (GME) & TSLA, and the catalysts for a price shock.
WallStreetBets As A Catalyst
The Reddit community WallStreetBets has gained notoriety for its role in the GameStop saga of January 2021, where a group of retail traders on the subreddit coordinated to drive up the stock price of the struggling retail company. The community, which mostly comprises retail traders with little formal investing experience, are heavy users of margin loans and trading apps to invest in the financial markets and place eye-watering sums of personal savings into outlandish bets on the share market.
The GameStop saga may have come to an end, but the community has continued to grow, with over 11.2 million members today, an almost 4X increase from pre-saga numbers. This growth in community size and influence has led to speculation that the community may hold significant power in the day trading space that needs to be carefully considered by seasoned investors.
Thanks to a website called Swaggy Stocks, we're able to track real-time WallStreetBets sentiment regarding any stock over a 1 year period and compare share prices with mentions to see the power of the subreddit in action.
The Past Repeats Itself… Again
There are several similarities between the GameStop, Tesla, and Bed Bath & Beyond situations when it comes to WallStreetBets mentions and share price peaks.
Firstly, all three companies have seen a spike in mentions on WallStreetBets in recent times, with implications for the equities market. In the case of GameStop and Tesla, the subreddit's community has shown significant interest in these companies, enough to generate traditional news media coverage.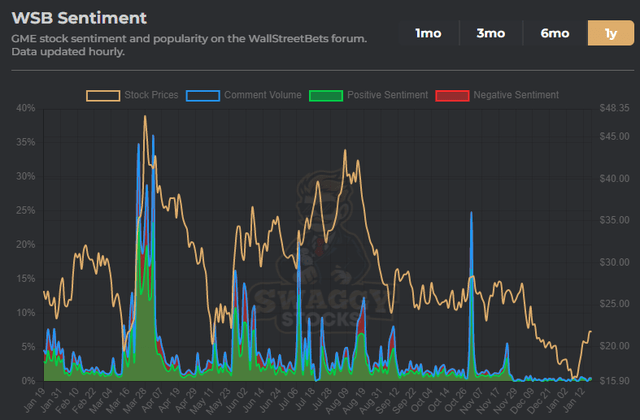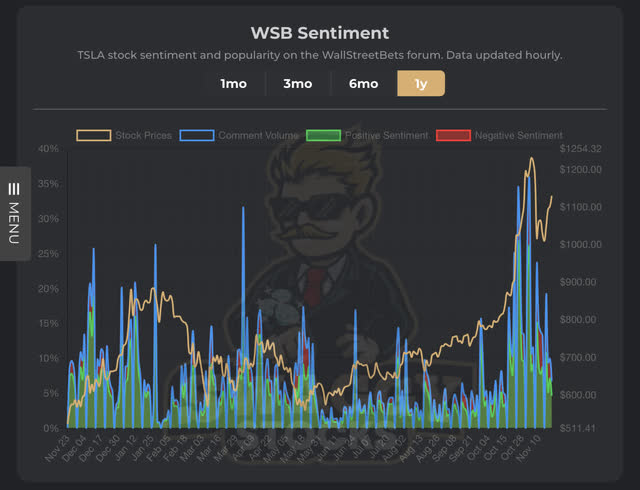 Secondly, all three companies have also seen a significant increase in their share prices during the period when mentions on WallStreetBets were high. In the case of GameStop, the stock price rose from around $20 to over $400 in a matter of weeks. Similarly, Tesla's stock price rose from around $800 to over $900 in a short period of time. The same applies to BBBY, as the stock price has seen an increase after recent spikes in WallStreetBets mentions.
Lastly, and the item we'll be focusing on here, is that while mentions may not be a leading indicator for share price growth, a drop-off in mentions appears to be a strong indicator of share price weakness. In the case of both GameStop and Tesla, dramatic share price weakness immediately followed a lack of attention on the stock online. Particularly in Tesla's case, after I posted in November 2021 highlighting the relationship between mentions and share price, the stock has fallen 64%.
BBBY: What WallStreetBets Trends Can We See?
BBBY appears to follow the same pattern as Tesla & GameStop. Prices are high while mentions peak, but following a drop off in online attention, the share price tends to fall back to a more fair value level.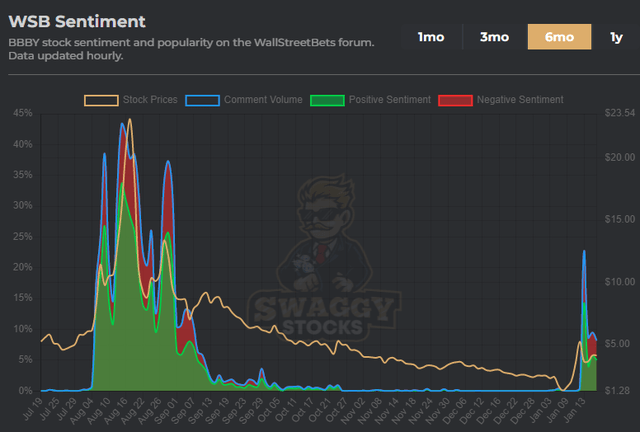 It appears to me that mentions have currently spiked on the subreddit, though head over to the Reddit page and scroll through recent mentions of the stock and traders appear to still be very bullish and active in their discussion of the equity. Perhaps this is just a lull following the MLK public holiday, and activity will pickup once again.
Reddit Isn't BBBY's Only Threat
Short sellers have piled on to BBBY, with a massive 33.72% short interest, indicating traders are expecting serious falls in price shortly, though the inverse risk exists that a short squeeze could be initiated by the WallStreetBets community should they rally around the firm, creating further volatility.
You only have to head over to Seeking Alpha's analysis page on BBBY to see how negative the outlooks are from more seasoned traders, as the firm struggles financially.
The Investment Takeaway: Strap In For A Bumpy Ride
With intense retail trader interest among the Reddit community, competing with 33% short interest, only one thing is certain: We're about to see what happens when an unstoppable force meets and immovable object.
Prepare for volatility.
Author's Note: The commentary in this article is general in nature and does not consider your personal circumstance. The opinions expressed in this article are opinions only, and data referenced is sourced from third party sources including Seeking Alpha and other publicly available sources.
I make no warranties or guarantees around any of the views expressed in this article and suggest all investors consider my writing to be for interest purposes only and not considered exhaustive investment research or advice.