This post was originally published on
this site
Bitcoin price has tagged a formidable resistance level at $21,481 and could reverse the trend.
Transaction data shows that the significant levels for BTC on both sides include $18,720 and $31,527.
The realized profit for the ongoing bear market is greater than realized loss, which is atypical in a bear market phase.
The 30-day MVRV has hit levels last seen when BTC hit $66,000 in October 2021, indicating that a large number of investors are in profit.
Bitcoin price shows that the ongoing massive run-up is facing major momentum issues as it tackles a stiff hurdle. However, that has not stopped altcoins from rallying, which has pushed the total cryptocurrency market capitalization to hit $1.03 trillion. 
While this outlook may seem bullish, investors need to be cautious of a sudden retracement that could catch them off-guard. Furthermore, on-chain metrics add credence to the bearish outlook.
Telltale signs of exhaustion
Bitcoin price has inflated from roughly $16,624 to $21,544, noting a 29% ascent in 11 days. This explosive move was a result of the bullish divergence noted between July 2022 and November 2022, among other things.
Technicals are forming a local top, coinciding with critical hurdles.
The Relative Strength Index (RSI) has hit all-time high levels (overbought).
Realized profit and loss indicator reveals an unusual number of investors in profit during a bear market.
30-day Market Value to Realized Value (MVRV) model shows levels last seen in October 2021, revealing an extremely overbought level.
The ratio of daily on-chain transactions in profit to loss has surpassed all-time high levels.
Bitcoin price slows down as technical indicators hint caution
Bitcoin price has overcome the 2022 volume point of control at $19,248, as seen in the chart below. BTC is now retesting a confluence of resistance levels, however, consisting of a horizontal hurdle at $21,481 and the declining trend line connecting the lower highs formed on November 9, 2021, to-date.
The current hurdles could be critical in determining where Bitcoin price will go next.
Bitcoin price could reverse soon if we look at the momentum indicator RSI. This index has reached levels last seen in October 2021 when BTC hit $66,000. This massively overbought outlook is another sign that warns investors a pullback could be underway.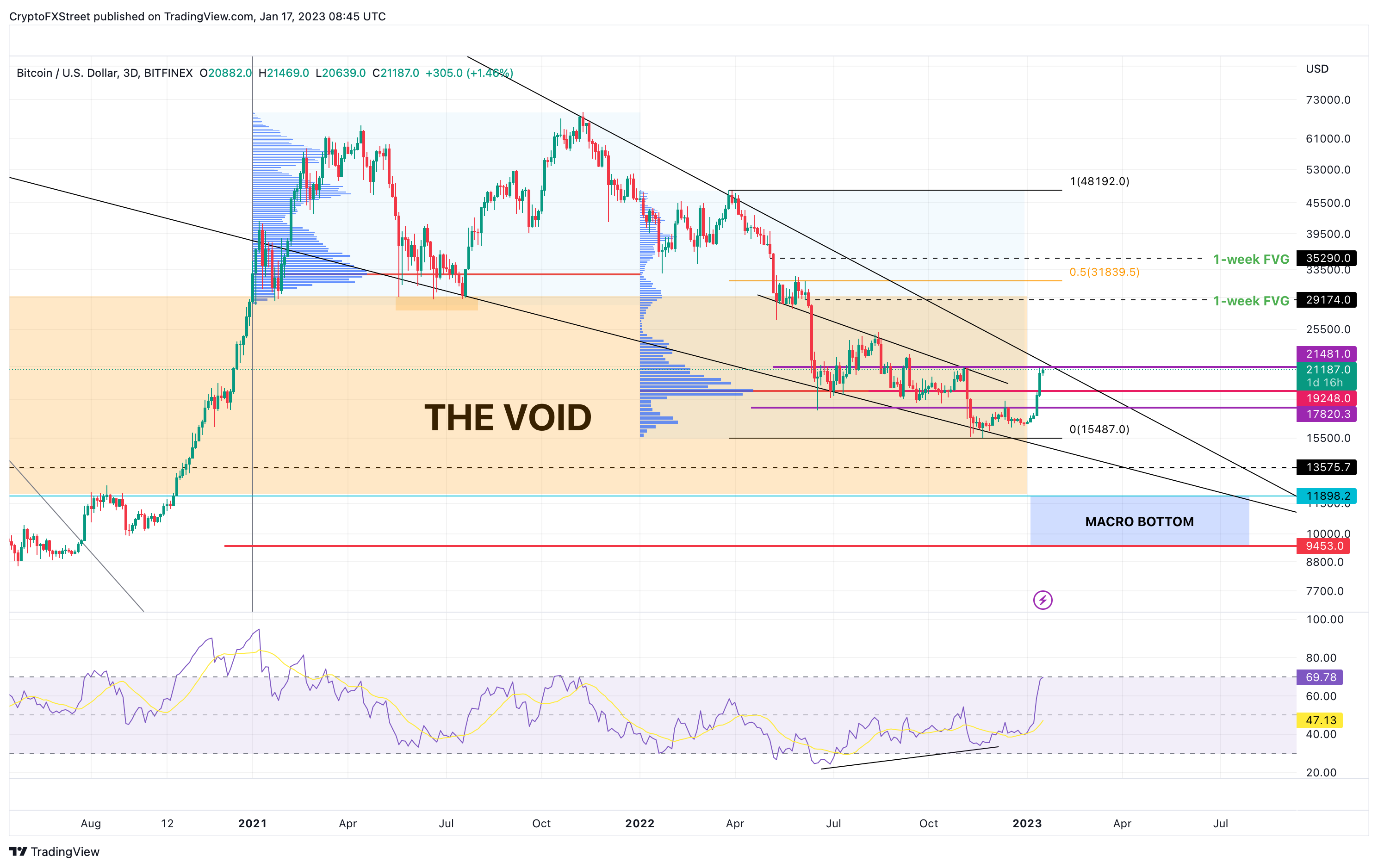 BTC/USDT 3-day chart
Profit levels hit staggering levels 
The Realized Profit and Loss indicator is showing that an unusual number of investors are in profit, which is an unusual sign given market conditions. Realized profits are 1.65 times more than the realized losses.
Such a high ratio of Realized Profit to Loss is usually unheard of during bear markets. So, as a result of this, it could either mean cryptocurrency markets are experiencing a paradigm shift from the bear market to a bull market, or that the recent rally could be about to retrace as investors look to book profits.
Generally, if the indicator retests the zero line and holds above it, it will confirm the start of a bull market. However, that is unlikely, considering Bitcoin price has still not shown any signs of breaking the bear market structure.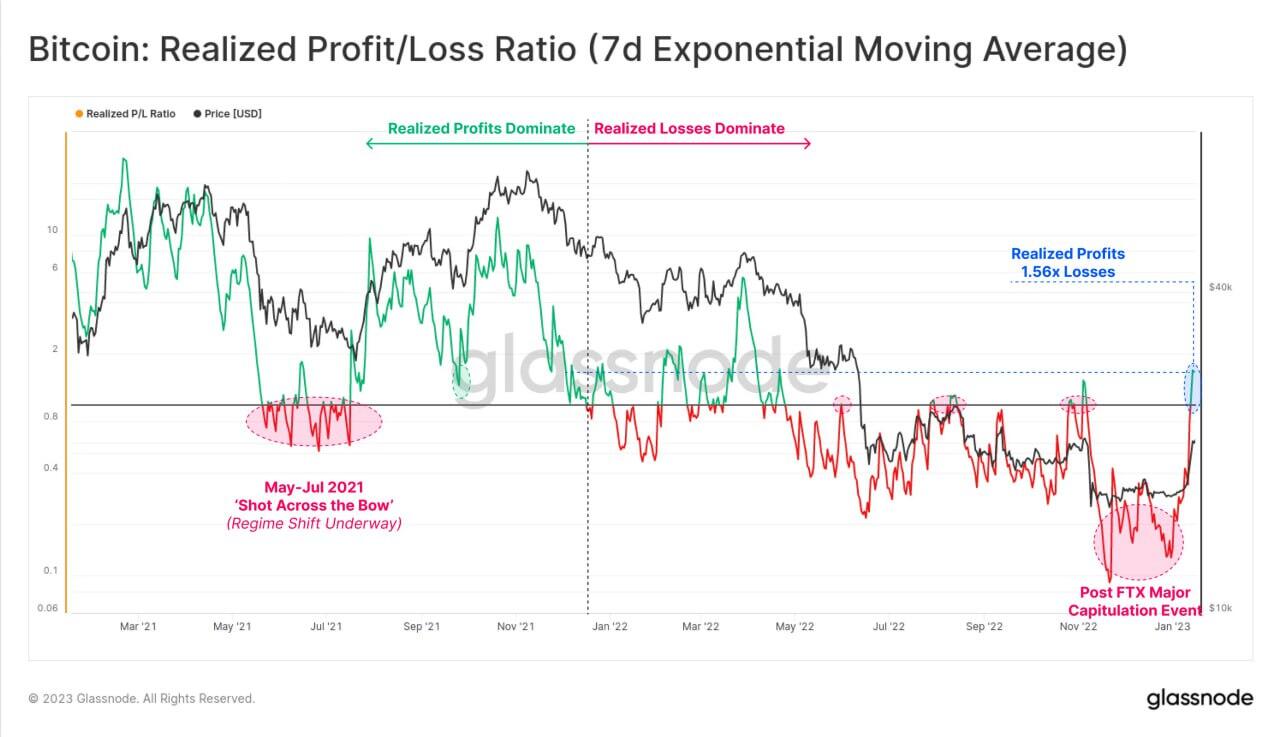 BTC Realized Profit and Loss  
The 30-day Market Value to Realized Value (MVRV) model is an on-chain metric used to track the average profit and loss of investors that purchased BTC in the last month.
Past data shows that local tops for BTC are formed when the 30-day MVRV hits 10%. But currently, the value sits at 18%, a level that was last seen in October 2021, when Bitcoin price hit $66,000 amid a peak bull run.
Such high levels are often indicative of local top formations and usually result in a quick reversal as these investors start to book profits.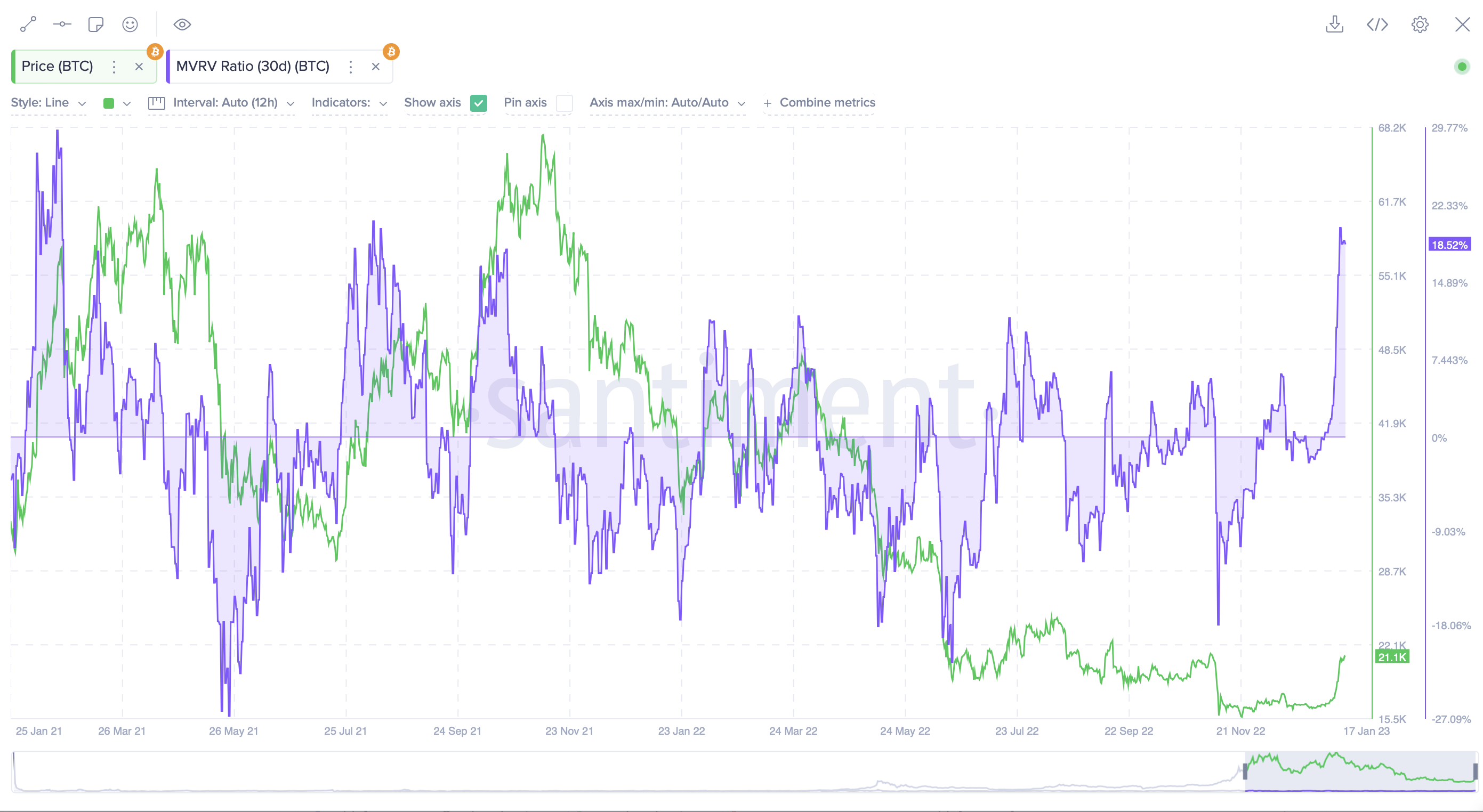 BTC 30-day MVRV
The fifth on-chain metric, the ratio of daily on-chain transactions in profit to loss is currently hovering around 2, suggesting that there the transaction volume in profit is twice as much as the transaction volume in loss. 
In contrast, this ratio was at 1.90 in October 2021, when Bitcoin price hit $66,000. Again, this is another sign BTC price could be topping.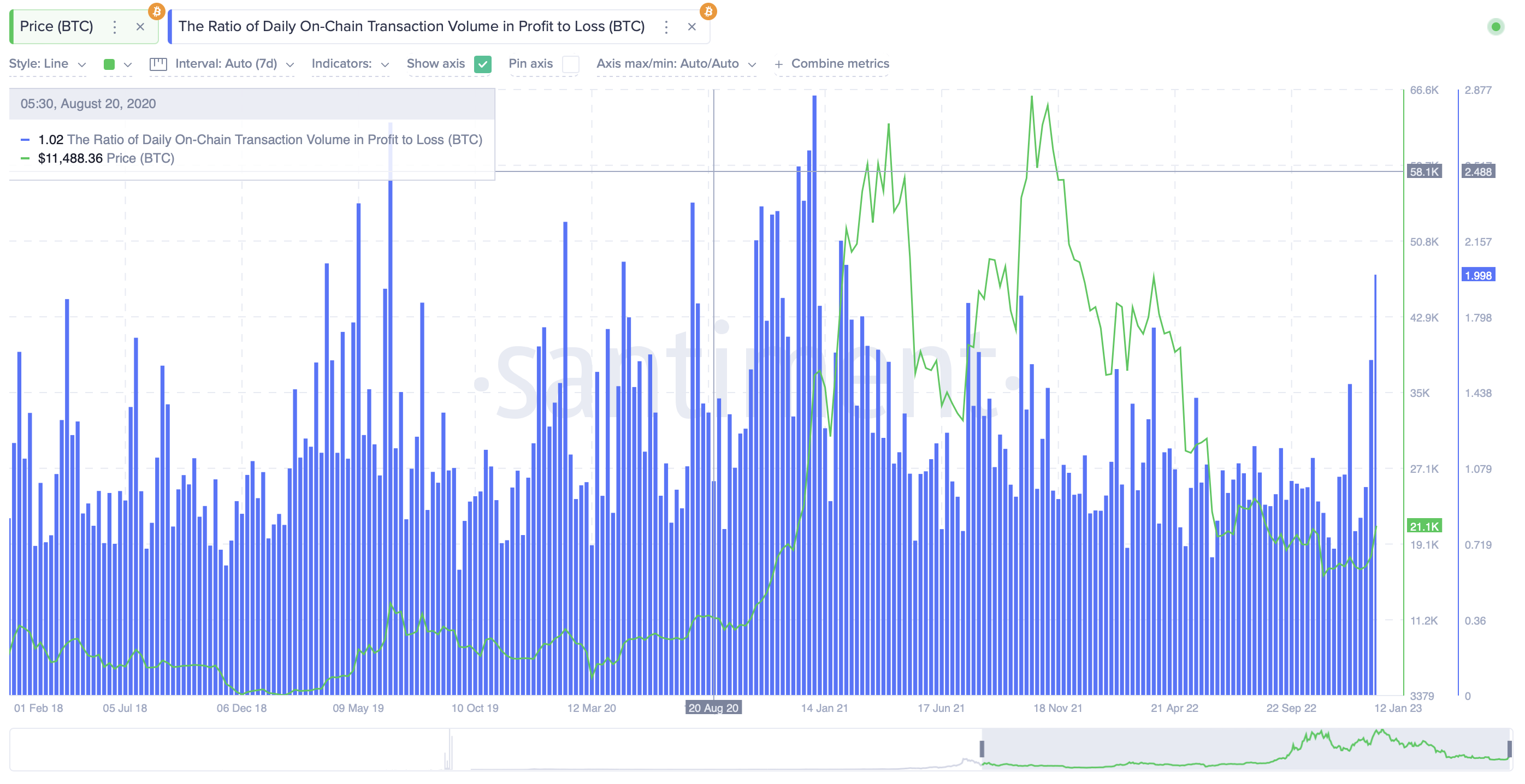 BTC ratio of daily on-chain transactions in profit to loss
While the expected retracement might never come, market participants need to be extremely careful in opening fresh longs, despite the overall outlook of Bitcoin price looking bullish. Market participants in profit should consider booking a portion of the gains instead of giving it back to the market should a sudden sell-off occur.
From a technical point of view, a retracement could knock Bitcoin price down to $19,248, which is the first line of defense. Beyond this support structure, BTC could slide as low as $17,820, which is the next significant level.
IntoTheBlock's Global In/Out of the Money (GIOM) shows that the $18,720 level is where a major chunk of investors purchased BTC. Roughly 2.63 million BTC was accumulated here, making it a critical level where bulls are likely to put up a determined defence.

BTC GIOM
Bullish continuation could happen but will it?
The continuation of the ongoing rally is likely and can be seen in the transaction data chart attached above. The GIOM model shows that the immediate hurdle for Bitcoin price extends from $21,880 to $38,876. This area is where roughly 5.24 million addresses that purchased 2.41 million BTC at an average price of $31,527 are "Out of the Money."
Therefore, if bulls squeeze out the remaining momentum, there is a possibility this bear market rally could extend to $31,527 before a massive spike in selling pressure kicks in.