This post was originally published on
this site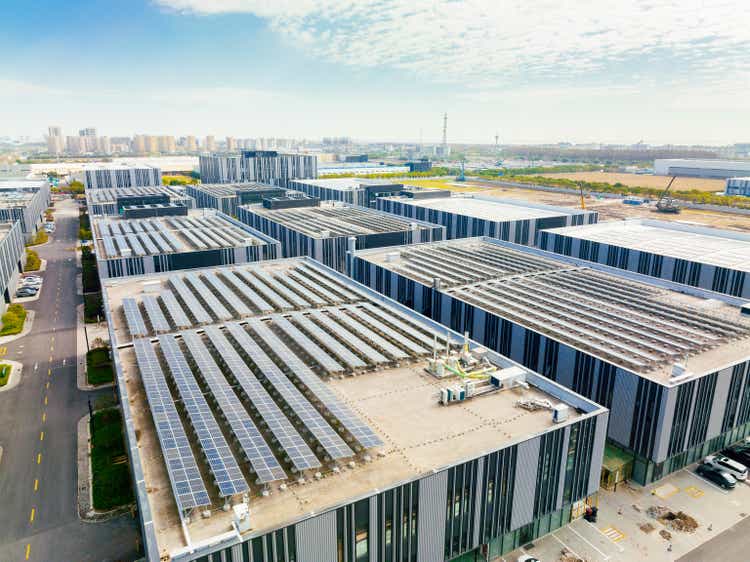 "E-commerce is a force that no investor can afford to ignore"- Cushla Sherlock
As noted in the 'opening thoughts' section of my paywalled research, recently, we've seen a more risk-on tone envelop the markets, with the cyclically sensitive areas garnering added attention, even as some of the defensive sectors have gone off the boil. My subscribers would also note that within the cyclical basket, I've flagged how a ratio that measures the strength of the real estate sector as a proportion of the S&P 500, recently crossed its 20-day moving average for the first time since June 2021.
If you're looking for suitable options in this burgeoning space, you may consider the Pacer Industrial Real Estate ETF (NYSEARCA:INDS). INDS focuses on 31 developed market securities that are required to generate at least 85% of their revenue from real estate operations in the industrial real estate sector (also includes companies that derive 85% of their revenue from self-storage real estate operations). Even though this is supposed to be a globally focused product, an overwhelming majority of its holdings are US based (~77%).
It's worth noting that INDS has been a reliable source of alpha since its listing date, delivering 1.67x the returns generated by the popular and diversified SPDR Real Estate Select Sector ETF (XLRE).
The recent short-term track record too hasn't been too shabby; as noted in an infographic on the timeline of The Lead-Lag Report, it was one of the few real estate segments to deliver double-digit returns in the final quarter of last year.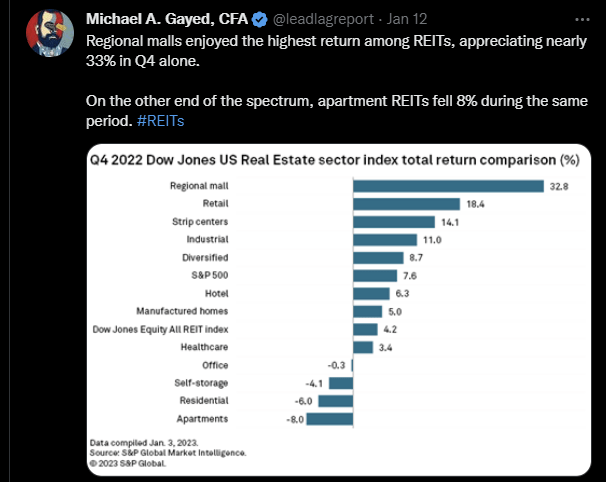 Should you be pursuing this product?
Well, structurally, I believe some of the long-term tailwinds look very promising, even if the short-term impact may be a bit wobbly. Firstly, I think it's important to understand that the primary industrial drivers have shifted from traditional manufacturing to consumer-oriented spending, particularly via online sales. Put another way, a lot is linked to e-commerce penetration and how that's taken on greater prominence in recent years.
Admittedly, in the short term, e-commerce may have hit some bumps along the road, particularly on account of inflation which has adversely impacted purchasing habits. However, inflation has recently begun showing signs of cooling down and the high base effect in the months ahead should make the picture look a lot rosier. In fact, as noted in a tweet shared last week on The Lead-Lag Report, the most recent forward-looking inflation forecasts show a figure of 5%, the lowest it's been in 18 months!
All in all, a long-term impetus towards e-commerce calls for even greater industrial infrastructure; a study by Newmark showed that e-commerce fulfillment calls for 3x the level of industrial space relative to traditional brick-and-mortar retail. In addition to that with e-commerce, the amount of products returned too is more pronounced than the traditional space. This would require a deeper thrust toward reverse logistics operations. INDS largest holding – Prologis stated for 1.2millon square feet of warehouse space would be needed for every $1bn of e-commerce sales growth. When you consider that e-commerce in the US is expected to grow at double-digits through 2025, that calls for an awful lot of additional capacity that we don't appear to have as yet.
What compounds the whole issue is the aging infrastructure that we currently have; just for some perspective, close to 33% of the existing industrial inventory is over 50 years old, while more than 70% of the existing industrial inventory was constructed in the previous century.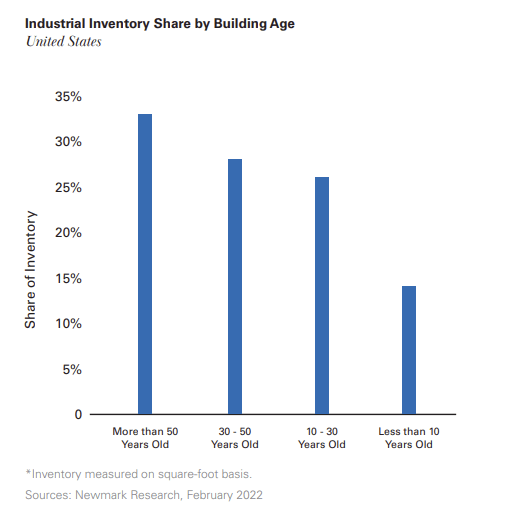 In fact, you could argue that the supply-side infrastructure builds could get a lot worse given how elevated the cost of capital looks after the Fed's aggressive stance across 2022. This heightened cost of capital will likely result in a 60% decline in warehouse development starts (to 175 million square feet) in 2023 which will only prompt more shortages going into 2024. This could well provide the ideal fillip for rental growth to maintain double-digit levels for yet another year. A study by CWK showed that last year, rental growth came in 19%, which was a record of sorts!
Conclusion
If you've been following my recent commentary on the timeline of The Lead-Lag Report, you'd note that I've highlighted how conditions for a crash ended in December, while those for a short-term melt-up picked up recently. In a cagey environment such as this, it would be preferable to stay exposed to options with relatively low valuations. On a weighted average price-to-book value basis, INDS trades at a multiple of 1.83x, which is a 37% discount to the corresponding multiple of the diversified XLRE.

Anticipate Crashes, Corrections, and Bear Markets
Sometimes, you might not realize your biggest portfolio risks until it's too late.
That's why it's important to pay attention to the right market data, analysis, and insights on a daily basis. Being a passive investor puts you at unnecessary risk. When you stay informed on key signals and indicators, you'll take control of your financial future.
My award-winning market research gives you everything you need to know each day, so you can be ready to act when it matters most.
Click here to gain access and try the Lead-Lag Report FREE for 14 days.