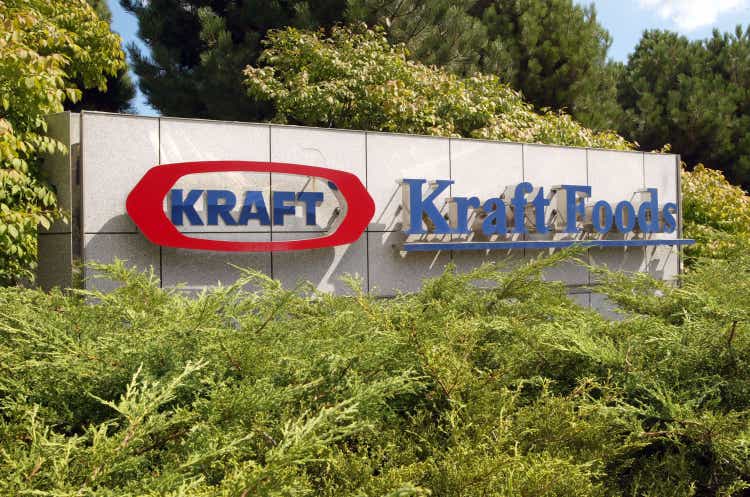 New buy
A new buy on the Gates Foundation 13F for the most recent quarter reveals a new position in The Kraft Heinz Company (NASDAQ:KHC). Although it's only a quarter percent of the portfolio value, it strikes me as interesting, given the previous position that Berkshire Hathaway Inc. (BRK.A) CEO Warren Buffett held on the board and his influence, which likely remains current in the minds of the current managers. Buffett and Berkshire have maintained their roughly $10 Billion position at Berkshire Hathaway mrq, telling me that they are expecting a turnaround to happen at some point.
As stubborn as the media likes to make you believe that Warren Buffett is, in actuality, Berkshire jumps in and out of large positions. Case in point with Exxon (XOM), Walmart (WMT), Amazon (AMZN), and Wells Fargo (WFC). These were all very large positions that Buffett has spoken glowingly of at one point or another but still jettisoned at the second or third sniff of future danger.
The Bill and Melinda Gates Foundation does not hold many positions – now at 22. The portfolio is one of many that I watch, not because I adore the people behind it, but because I assume that the managers have some of the greatest insights into the future of the economy. If the team has zero contact with anyone in or near Berkshire that might have insight into Kraft Heinz, I'd be shocked. They could however just be like me, amazed that after owning the stock at an initial acquisition cost of $75 a share, Berkshire continues to hold in the $40s. Seems similar to the Bank of America (BAC) preferred play that Berkshire sat on forever and eventually paid off after years of holding. The structures of the investments are in no way similar, but the actual stubbornness in waiting on the position is apparent.
When a fund that I closely associate with Warren Buffett makes a buy, call me a conspiracy theorist, but I like to view this as the "six degrees of Warren Buffett."
The story
I wrote a previous synopsis of the Kraft Heinz story which can be found here.
For those unfamiliar with the story of how Kraft Heinz came about, it was a combined effort by both Berkshire Hathaway and a Brazilian private equity firm 3G Capital who collected all the pieces to put the new company together. The original terms to shareholders in Berkshire's $23 Billion purchase of H. J. Heinz were as follows:
H. J. Heinz Company ("Heinz") today announced the completion of its previously announced acquisition by an investment consortium comprised of Berkshire Hathaway and an investment fund affiliated with 3G Capital. The acquisition agreement was first announced on February 14 and the transaction closed and became effective today.

Heinz shareholders will receive $72.50 in cash for each share of common stock they owned as of the effective time of the merger, without interest and less any applicable withholding taxes. As a result of the completion of the merger, the common stock of Heinz will no longer be listed for trading on the New York Stock Exchange and Heinz expects no further trading after the close of business on June 7, 2013.
The deal originally cost Berkshire about $23 Billion to put together and the holding value only stands at about $10 Billion today. There was a 2019 SEC investigation of the accounting practices of the firm that resulted in an impairment of assets.
The rest is history, as the stock got cut in half and the recovery efforts are ongoing to this day. The stock has appeared in a few prominent value portfolios from time to time, but none has been patient enough to wait. One would include a large call position in Michael Burry's Scion Asset Management, which he later turned over within a couple of quarters. It's hard to wait, this stock is truly one for the patient.
Valuations
Kraft is still a company that I tend to look at the Non-GAAP vs GAAP numbers due to the continued write-offs from impairments that occurred shortly after the 2015 accounting issues. I lump Kraft Heinz into the valuation category that is most appropriate to use the Graham Number in evaluating versus PEG or Earnings Yield + ROIC scores.
A summarization of the mrq, Q3, investor relations presentation from Kraft Heinz can be seen below:
Net sales increased 2.9 percent versus the year-ago period to $6.5 billion, including a negative 6.4 percentage point impact from divestitures and acquisitions and a negative 2.3 percentage point impact from currency.
Net income/(loss) decreased 40.8 percent versus the year-ago period to $435 million primarily driven by higher non-cash impairment losses, unfavorable changes in other expense/(income), and lower Adjusted EBITDA versus the prior year period. These factors were partially offset by lower interest expense primarily due to debt extinguishment costs in the prior year period.
Year-to-date net cash provided by operating activities was $1.5 billion, down 38.0 percent versus the year-ago period, primarily driven by higher cash outflows for inventories primarily related to stock rebuilding and increased input costs, and lower Adjusted EBITDA. These impacts were partially offset by lower cash outflows for interest primarily due to prior year's reduction of long-term debt and lower cash outflows for variable compensation versus the year-ago period.
The above statements from the Q3 investor relations report are reflected in the cost of revenue line of the income statement. We can see from Q1, the cost of revenue steadily climbed showing the effects that inflation is having on materials sourced for the packaged food giant. The balancing act between paying down debt while having a lower EBITDA which in turn decreases free cash flow is difficult. The final quarter earnings result is Feb 14th, 2023 and the company is raising the lower end of its expected EBITDA to $5.9 Billion versus the previous $5.8 Billion. This could be a good sign that we'll see the effects of inflation cooling in the next quarter and the cost of revenue decreasing rather than rising.
Using a modified Graham number to value Kraft Heinz deferring to non-GAAP EBIT per share versus earnings per share, we'll first take a look at TTM EBIT. TTM EBIT is at $2.7 Billion with 1.227 Billion shares outstanding, giving us an EBIT per share of $2.2. MRQ book value, the other input needed for the Graham Number, stands at $39.25. This gives us a modified Graham Number calculation of SQRT(39.25X2.2X22.5)=$44. With the stock trading in the $42-$44 range, we are looking at trading at fair value currently using this modified metric. In the situation for Kraft versus tech and other companies where assets don't deteriorate as much, I prefer to use EBIT in the recovery phase versus EBITDA due to depreciation being a real expense for hard asset-heavy companies like Kraft Heinz.
Competition
The main competition for Kraft Heinz in the packaged goods sphere includes: Campbell Soup Co. (CPB), General Mills (GIS), and Kellogg Co. (K).
A couple of items stand out to me when comping Kraft Heinz to its other packaged goods competitors. Firstly is book value, with Kraft Heinz trading at 1.02 X BV, this aspect is much cheaper than the competition. Campbell Soup Co.'s book value is at 4.92 X, General Mills at 4.7 X, and Kellogg Co. at 5.87 X. The forward P/E estimates are all in the 17-20X range, with Kraft Heinz also looking a tad cheaper at a forward estimate of 15.5 X.
This shows me that the market is valuing the brand and businesses at a much lower value than the competition as Kraft Heinz's assets are not returning a comparable amount of earnings per dollar value of assets.
Debt and the dividend
The dividend continues to be frozen at 40 cents a quarter or $1.60 a year. Kraft Heinz continues to prioritize debt pay-down, reducing their debt by another $1.7 Billion from last year to this:
Here we can see total debt was at $21.815 Billion at the end of 2021 and has been reduced by $1.745 Billion. Net debt increased a bit as cash and cash equivalents fell during the last 3 quarters with lower revenue, earnings, and free cash flow. The priority is still decreasing debt to get ahead of interest payments which will be trending to a higher WACC in future quarters if any debt needs to be rolled over. This seems like a wise move for any firm at the moment.
Free cash flow is decreasing in line with lower EBITDA, thus a lower conversion rate. With a TTM free cash flow of $3.55 Billion and a forward dividend liability of $1.6 a share X 1.227 Billion shares outstanding equivalent to $1.963 Billion, the payout ratio is 55%. The dividend remains within the safe range. We could expect free cash flow to improve the next quarter in line with Kraft Heinz's guidance for higher EBITDA.
Compounded return with DRIP
Kraft Heinz over a 5-year basis is down 45%, even more, if we look at the fall from its all-time high. Let's just be conservative in our assumptions of this dividend stock that within 10 years, Kraft Heinz can return to its' high 5 years ago of $80 a share. That would only require a 4.5% annual appreciation. Also conservatively assuming that Kraft Heinz un-freezes their dividend and begins to increase it after the debt is reduced to a sufficient level to stabilize free cash flow. For this, I am inputting a below-average 2% dividend increase per year average over the next 10 years.
With this ultra-conservative assumption, we still see a total return of 131.51% and an average annual return of 13.15%. Better than market averages for a very tepid 10-year input set. This is where dividend investing, especially in shares of depressed, beaten-down companies with improving situations, can pay off. The power of the trifecta of annual appreciation, dividend increases, and reinvestment of dividends to accumulate fractions is amazing.
Catalysts
Consumer staples are an excellent place to hang out during recessions and stagflation. This is the stuff that does not get cut from the budget.
As we can see from the above, the "Grow" category of the Kraft Heinz brand has been on an 8% CAGR growth rate in sales and now represents 64% of the product line. This is organic growth as pointed out by the presentation, not growth due to acquisition. The income statement shows that although earnings have taken a dip due to the cost of goods sold growing, revenue has remained flat to growing in some categories. The growth is very evenly distributed amongst all income segments of the economy.
The highest consumer growth demand is in the over 100K segments. This is the prime example of why consumer defensive and consumer staple stocks do well in tough economic environments. The Whole Foods budget is out, and the Kraft Heinz Walmart (WMT) budget is in for high earners no longer worried about the Joneses. Kraft continues to slowly but surely absorb market share.
A combination of the economy worsening in conjunction with deflation and interest rate cuts would be a boon for Kraft Heinz. Their costs would plummet as the top line would increase, widening profit margins. I recall during the President Obama era, the economy was bad, and real estate foreclosures were everywhere, yet we were in a steady downward deflationary spiral that is a great combination for what we might consider cheaper consumer staple items. The cost goes down, demand goes up. I can see a similar scenario to 2008-2012 carried out once again.
Risks
The opposite of the above occurs. An improving economy that widens the consumer budget would most likely prevent market share absorption. Prolonged inflation in commodities that Kraft Heinz uses without interest rate relief could continue to hurt profit margins resulting in lower earnings. Kraft does have $20 Billion in long-term debt that needs to be continued to be paid off aggressively until rates start going the other way.
This mix/scenario seems unlikely going forward with China coming online, slowly but surely and the Russia-Ukraine war hopefully winding down. This should help the grain and fertilizer market get back to normal as well as other log-jammed materials needed to produce packaged goods.
Conclusion
The Kraft Heinz Company is one of my largest positions. The brand is enormous, Warren Buffett continues to hold a beaten-down stake, and now the Bill and Melinda Gates Foundation has started a position. The six degrees of Warren Buffett associated with the Foundation managers make me almost treat this purchase like an insider buy. The foundation doesn't have a lot of turnover, so I pay attention when something new pops up. Strong support for The Kraft Heinz Company stock in the $40s, and a buy under $45.