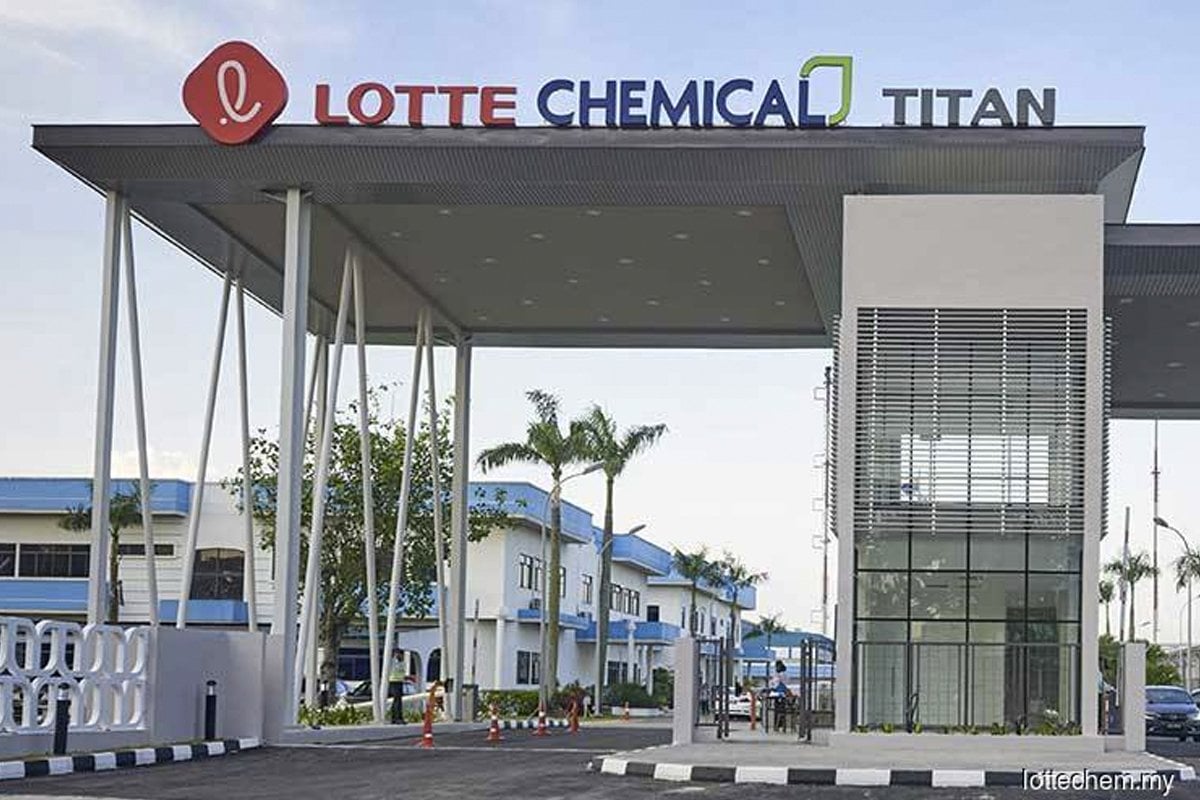 KUALA LUMPUR (Feb 2): Lotte Chemical Bhd (LCT) is unlikely to pay any final dividends for the financial year ended Dec 31, 2022 (FY22), or any dividends for FY2023 after posting its largest full-year loss last year. 
CGS-CIMB in a note on Thursday maintained its "reduce" call on LCT as it expects average selling prices of naphtha in FY23 to be lower year-on-year due to significant global capacity additions and weak demand. As such, it expects LCT to continue making losses in FY2023. 
It had raised its end-2023 target price (TP) RM1.04, based on its trough 0.2 times price to book value(P/BV) multiple, given last year's tough dynamics to extend into this year. 
CGS-CIMB noted that LCT paid out 13.98 sen in special dividend in Dec 2022 as it had excess cash, triggering a 24% share price rally in Nov 2022. 
However, the research house said of LCT's RM1.3 billion gross cash balance at end-Dec 2022, only RM700 million is now left after injecting RM600 million into its Indonesian subsidiary, PT Lotte Chemical Indonesia (LCI), to fund the naphtha cracker capital expenditure.  
"LCI will also take on new project debt this year, causing LCT to lose its net cash position from FY23F onwards. In summary, LCT is unlikely to pay interim, final, or special dividends in FY23F, in our view," said CGS-CIMB. 
Meanwhile, KAF Equities has widened the projection of FY2023's losses to RM292.2 million (from RM283 million) and cut FY2024 earnings by 74% to account for lower product spreads (particularly assuming slower improvement in product prices 2024 onwards). 
The research house's sum-of-parts valuation TP is reduced to RM1.04 (from RM1.10) as a result. KAF believes the near-term headwinds would persist into the first half of 2023 (1H2023) and a clearer trajectory could only be seen earliest in 2H23. 
LCT posts largest annual losses in FY22 
CGS-CIMB noted that LCT posted its largest quarterly loss in its history in 4Q22 and largest annual loss in FY22. 
It said LCT's 4Q22 core net loss was RM317 million, a record quarterly loss for LCT. Meanwhile, LCT's 2H2022 core net loss of RM607 million was wider than the 1H2022 core net loss of RM9 million, leading to a FY2022 core net loss of RM515 million, the widest since it was relisted in 2017.  
"This was caused by rapid h-o-h [half-on-half] selling price decline due to reduced consumer demand for goods, as a result of high inflation and rising interest rates. Even though naphtha feedstock costs declined h-o-h in 2H22, the declines in selling prices were faster, leading to margin squeeze.  
"LCT responded by cutting the production to an average of 71% utilisation in 2H2022 vs. 83% in 1H22, with 3Q2022 plant turnarounds also contributing to weak 2H2022 utilisation," said the research house. 
CGS-CIMB said even with lower utilisation, the weak price spreads caused LCT to make RM500 million Ebitda loss in 2H22, versus. RM175 million Ebitda profit in 1H22.  
LCT's share of loss from its US associate that produces mono ethylene glycol (MEG) was RM22million in FY22 vs. share of profit of RM120million in FY21, as MEG prices fell in the face of rising ethane costs in 2022. 
De-rating catalysts 
CGS CIMB said de-rating catalysts include a slowdown in global GDP growth, higher cost of living and higher interest rates which may hurt consumer spending this year, with a partial offset from the dismantling of Covid-19 restrictions in China.  
"On the supply side, we expect global polymer and MEG supply growth to exceed demand growth this year, and lower prices should follow, potentially outpacing any decline in naphtha costs in 2023F," it added. 
The research house said LCT may also face more competition as a local producer targets to fully commission its new Pengerang plants by end-2023.  
Meanwhile, KAF noted that in the 4Q2022 core loss was due to negative spreads for both polyethylene (PE) and polypropylene (PP) products (relative to naphtha) due to steeper product price decline compared to crude oil prices. Additionally, LCT also suffered losses from joint ventures and associates due to lower MEG prices and lower overall plant utilisation due to business optimisation. 
The firm said although spread is recovering on the back of moderating crude prices in 2023, PE and PP prices have seen weaker trends towards US$1,000 per metric tonne, which is close to 2019 levels. 
"Hence recovery in spreads would not be significant to turnaround the company's loss position.  
"Indonesian LINE (Lotte Chemical Indonesia New Ethylene) project has been progressing with completion expected by 2025 and this would allow for better Indonesian plant overall utilisation we believe the hefty investment payback is uncertain given volatile spreads," it added.