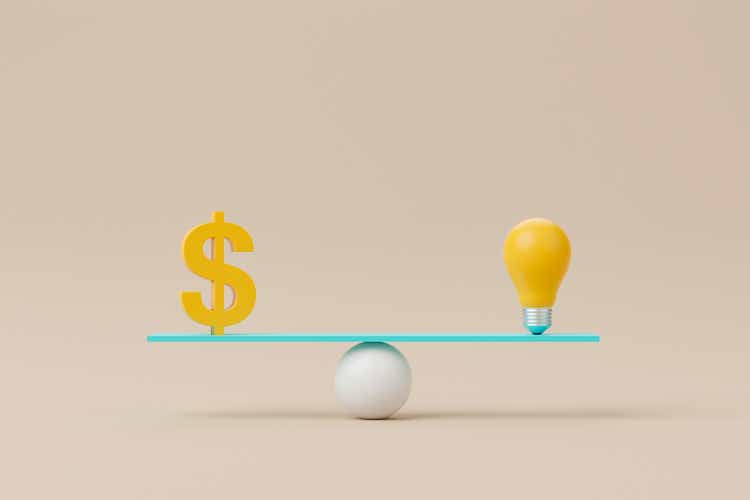 Main Thesis & Background
The purpose of this article is to evaluate the Invesco S&P 500® Equal Weight Energy ETF (NYSEARCA:RYE) as an investment option at its current market price. This is a fund that is rebalanced quarterly and used to provide investors with "equally weighted stocks in the energy sector of the S&P 500 index".
I have not written (or owned) RYE until recently, but I have been a bull of the broader Energy sector heading in to 2023. I wrote about this sentiment back in December when I advocated for the Vanguard Energy ETF (VDE). As readers are probably aware, this was a top performer last year and has continued to pump out additional gains in the interim: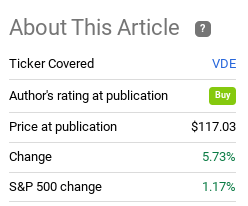 As you can see, Energy continues to perform well as a sector. With the new year underway, this caused me to re-evaluate my positions and to see if I should make changes. With respect to Energy, I continue to lean bullish on the sector, but I wanted to spice things up by not continuously adding to VDE – a fund that I am sitting with hefty gains. To avoid further concentration risk, I decided to look at RYE, which has an equal weight focus, and I liked what I saw. It was enough for inclusion in to my portfolio, and I will explain the reasons behind this move in detail below.
Oil/Gas Remain Under-Invested, A Tailwind For Prices
To begin, let me start by focusing on some of the reasons why I like Energy as a whole. Then I will dive in to RYE specifically. With respect to Energy ETFs, the primary driver for my bullishness has been rising commodity prices over the past few years, namely oil and gas. While the spike in oil from the Russian-Ukrainian military conflict has largely waned, oil still remains elevated due to under-investment and hopes of an economic rebound in China. For perspective, consider the price action of WTI Crude over the long-term:
The good news for investors is that I expect oil to remain at these levels and possibly go higher in the future. Worries of a recession in the developed world are well founded, but I think some of that risk is being baked in to current prices already. Further, I expect the demand from China's re-opening to more than offset a decline in crude demand in the U.S. and western Europe.
The support for this outlook is driven primarily by supply dynamics. With a consistent push in the developed world towards "clean" energy, investment in exploration and production of "dirty" fossil fuels has been on the decline. This is not a new trend, but one that has been ongoing for years. Under-investment in these critical areas for the longer term is a key reason for elevated prices and it would take quite a commitment on the part of producers to return to the levels of investment we saw ten years ago: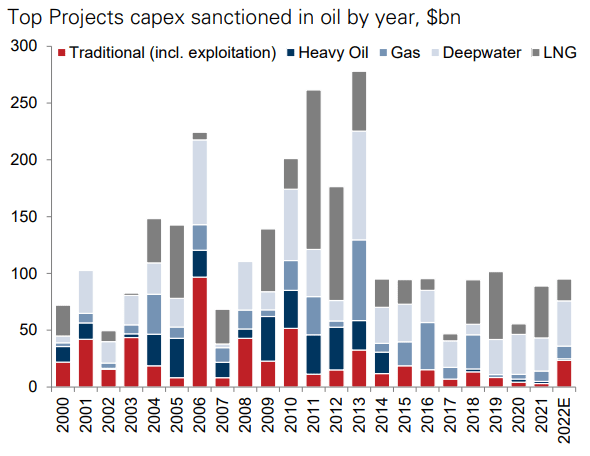 The takeaway for me is that oil and gas continue to have support for elevated prices. They will continue to be volatile due to seasonal factors and economic concerns – that is unlikely to change. But I still expect the broader trend to be upwards until we see meaningful change from either American or European production and that is not an outlook I am optimistic on. As a result, I think the Energy sector will continue to earn out-sized profits, making investors in Energy-focused ETFs like RYE a fruitful choice.
Energy Sector Has Above-Average Short Positions
My next topic has a contrarian slant. This relates to the number of short positions opened on the sector, which has risen over a one-year period. While this may sound counter-intuitive, I often see buy opportunities when the masses think the opposite, and gauging "short" interest is one such mechanism to do so. The logic being as short positions pile up, the profitable trade is to bet the opposite way, especially when the underlying fundamentals are strong. In the case of Energy, that is the case.
To see why this is relevant now let us look at outstanding short interest. Across the market, short interest has risen on renewed fears of an upcoming recession. But we should acknowledge that short interest is not unusually high, so this alone is not a valid reason for buying any stock/sector/fund. Yet, I find it interesting that Energy is the third most shorted sector, with an average short interest well above the average (as measured by the S&P 500):
The suggestion I am making here is to consider areas that have underlying support but seem disproportionately unloved by other investors. In terms of Consumer Discretionary, which tops the list, I see justifiable challenges ahead that tells me this level of short interest isn't a buying opportunity. But areas like Energy and Health Care, the story is different. Both should have an uptick in demand going forward and reasonable fundamentals to support current valuations. This makes me confident recommending funds like VDE and RYE.
VDE Is Top-Heavy. RYE Cuts Concentration Risk
I will now dig in to why I like RYE as an option in the new year. In fairness to VDE, I have enjoyed tremendous success with it in 2022. So this is less of a knock on the fund and more why I believe RYE could serve as a compliment, and not a replacement.
One of the drawbacks to VDE (and other popular Energy ETFs) is that it is heavily concentrated at the top with just a few names. So even if one likes the "Energy" theme and wants to own this sector, they may find a fund like VDE undesirable due to lack of diversification. Specifically, this fund roughly 39% of its assets in just two stocks, and almost 50% of its assets in four names:
This is not inherently good or bad, but it does have a fair amount of concentration risk that investors need to be aware of. In 2022, this was not a problem, as these names performed very well and delivered strong returns. So this risk was likely ignored by many. But after a few years of out-performance, I tend to get a bit more cautious. Finding a complimentary fund that removes some of this concentration risk is one way to appease that caution.
This is where RYE steps in. The top ten holdings list for this fund indicates it none of the top four holdings in VDE, removing some of the overlap (although they are within the portfolio). Further, the "equal-weight" methodology means that no single stock represents more than 5% of total fund assets: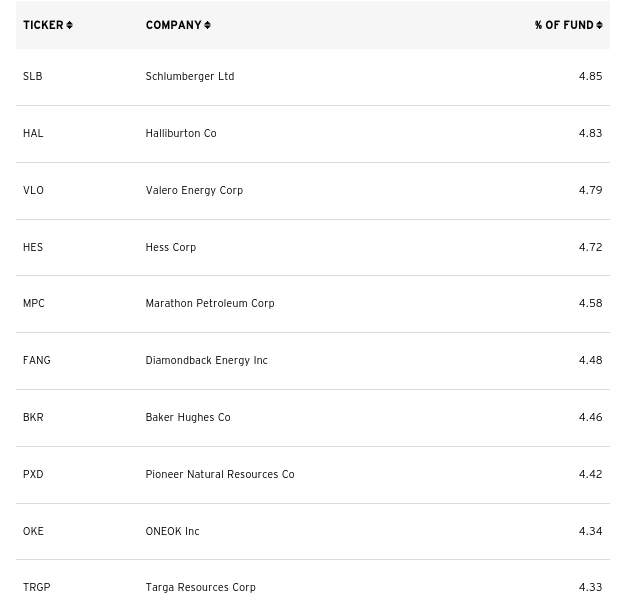 This highlights a key component for why I personally bought RYE in January rather than adding to my existing VDE position. VDE has done well, but its large gains and top-heavy make-up suggested it was time for me to diversify my Energy holdings. RYE gives me the perfect way to do that. I imagine this strategy could serve other investors similarly well.
Dividend Growth Was Astounding
Another important attribute for RYE is the fund's dividend. With a SEC yield over 3%, that seems relatively attractive on the surface. Of course, with interest rates going up we need to be especially critical of any current yield when deciding how attractive it is. Fortunately, I view RYE's dividend stream very positively. The reason behind this is that the growth on a year-over-year basis is extremely impressive:
| | | |
| --- | --- | --- |
| 2021 Distributions | 2022 Distributions | YOY Growth |
| $1.14/share | $2.49/share | 118% |
Source: Invesco
I like this backdrop for a number of reasons. One, the yield is above-average compared to the market and growing extremely fast. That alone entices me as a "dividend seeker". Two, dividend plays will likely be in favor this year due to recession concerns. Typically, investors will rotate into dividend-paying stocks and sectors in search of cash while the economic outlook is uncertain. As profits are harder to come by, earnings multiples can take a hit. But dividends keep on coming from quality companies. This makes the Energy sector a reasonable spot to consider during difficult times, even though it is thought of as a more cyclical area.
Bottom-Line
Economic and geo-political conditions globally have supported elevated commodity prices. These include oil and gas, and have made investments in this space both profitable and as a way for investors to hedge against ongoing volatility in the broader equity market. These conditions are not likely to ease in the first half of 2023, which means my "buy" rating for this sector continues to make sense. I see this as both a short-term and a long-term play.
Within the Energy sector, readers have many options to choose from. I have long used VDE as an investment of choice, but its soaring share price and top-heavy allocation have made it an uncomfortable large position within my portfolio. To balance out this concentration risk, I have moved new cash in to RYE. Many of the same reasons for owning VDE and RYE are the same, but I like RYE's equal-weight strategy at this time due to all the uncertainty around the world. Therefore, I have opened a position in this fund and have a "buy" rating on it going forward, and I encourage my followers to give the idea some thought at this time.