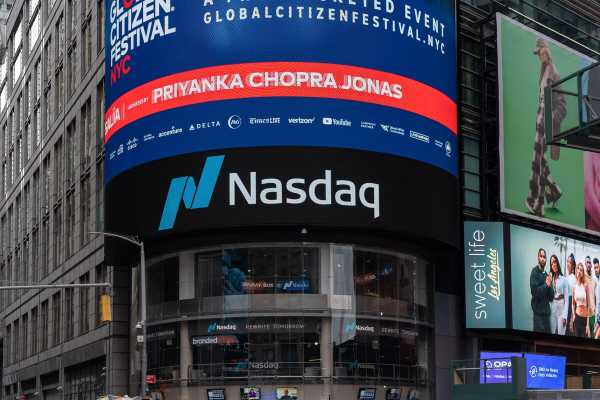 The major U.S. stock index futures contracts are trading mixed in Thursday's pre-market session with the NASDAQ Composite up nearly 1% and the Dow trading lower for the session.
Investors are trying to continue yesterday's rally that was fueled by a combination of a widely expected 25-basis point rate hike and less-hawkish remarks from Federal Reserve Chairman Jerome Powell. Helping to drive the bullish sentiment is a strong surge in shares of Meta on the back of an impressive earnings report.
At 04:33 GMT, the blue chip Dow futures are trading 34085.00, down 63.00 or -0.18%. The benchmark S&P 500 Index futures contract is at 4143.50, up 11.25 or +0.27% and the tech-weighted NASDAQ Composite is trading 12526.75, up 112.50 or +0.91%.
Underpinned by Wednesday's Positive Session, Less-Hawkish Remarks from Fed Chair Powell
Providing the support early Thursday is yesterday's impressive performance in all three major indexes. The S&P 500 reversed earlier losses to end the regular session with a jump of 1.05%, while the NASDAQ Composite closed 2% higher. Meanwhile, the Dow managed to eke out a narrow 0.02% gain after dropping more than 500 points earlier in the day.
Fueling the massive rebound was investor optimism that inflation is cooling enough for the central bank to take notice although Federal Reserve Chairman Jerome Powell gave no indication of an upcoming pause in rate hikes in his post-meeting press conference.
S&P 500 and NASDAQ futures are trading higher early Thursday on the back of a more than a 19% jump in shares of Meta. The communication company's earnings beat Wall Street expectations on revenue and included an announcement of a $40 billion stock buyback. The company also gave guidance for its first quarter that signaled revenue could rise on the year.
The solid quarterly performance was a surprise for Gene Munster of Deepwater Management, but signals that the Facebook parent is getting back on track, he said on CNBC's "Fast Money."
"The results essentially put investors at ease, and what investors need to know is that Facebook Meta is getting back on their footing," Munster said.
He added that the company showed solid daily average users especially in key markets, which is a good thing.
"This allows investors to look at the path forward here," Munster said. He added that the top concerns outlined at the top of the earnings call show that the company is refocusing on what it needs to do to grow.
Meta CEO Mark Zuckerberg described the focus on efficiency as part of the natural evolution of the company, calling it a "phase change" for an organization that once lived by the motto "move fast and break things."
"We just grew so quickly for like the first 18 years," Zuckerberg said in a conference call. "It's very hard to really crank on efficiency while you're growing that quickly. I just think we're in a different environment now."
"Our management theme for 2023 is the 'Year of Efficiency' and we're focused on becoming a stronger and more nimble organization," Zuckerberg said in a statement.
Earnings and Reports Set the Tone on Thursday
Investors will watch Thursday for earnings reports from household names including Apple, Alphabet, Amazon, Ford Motor and Starbucks. They will also look for data on jobless claims, productivity, labor costs and factory orders.