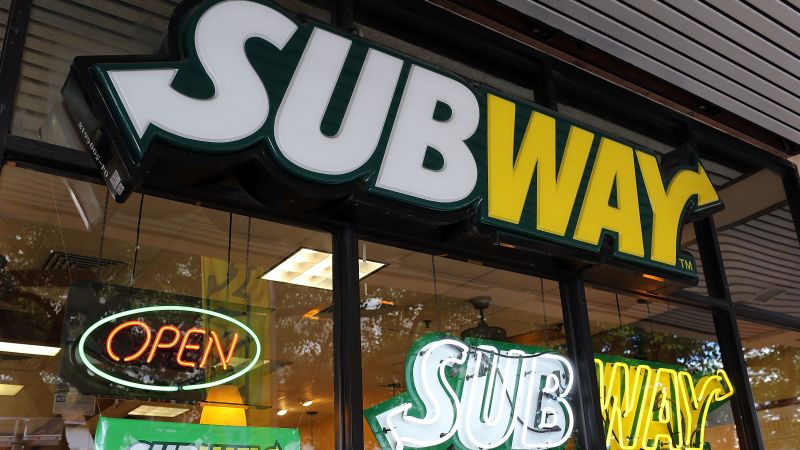 Subway, one of the world's most recognizable fast food brands, might be up for a sale, according to the Wall Street Journal.
The privately held company has obtained advisers to explore sale that could value Subway at more than $10 billion, the Wall Street Journal reported. If reached, it would be one of the biggest deals in the fast food industry since Inspire Brands bought Dunkin' for $11.3 billion in October 2020.
In a statement provided to CNN, Subway said that it doesn't "comment on ownership structure and business plans" because it's private. "We continue to be focused on moving the brand forward with our transformational journey to help our franchisees be successful and profitable," a spokesperson added.
Subway is still in the early stages of throwing up the "for sale" sign and it might not find an acceptable deal, the Journal reported.
Subway is in the midst of modernizing itself, including revamping its menu and stores. It appears that the makeover, one of its biggest in its nearly 60-year history, is paying off. The company said in October 2022 that it's having "record-setting sales" across its roughly 20,000 US locations, bolstered by a number of changes that include new sandwiches, soups and remodeled stores.
Subway attributed its recent success to its new "Subway Series" menu, which was streamlined to help speed up service, and an increase in digital orders.
In a note late Wednesday, Neil Saunders, managing director of GlobalData, said that those changes have made Subway an attractive target for a buyer.
"While the program has proven itself, it still has a lot of runway to boost future growth, which makes Subway a chain with good prospects – even in a slowing economy," he wrote. "The optimistic outlook is one of the reasons Subway sees this as a reasonable time to explore a sale and why it is likely to attract a significant amount of interest."
Subway was founded in 1965 by the late Fred DeLuca. He gave control to his in sister 2015 following a leukemia diagnosis. After her brief stint, Subway named John Chidsey as its first CEO to come from outside of the family and has implemented various changes, including closing locations and changing the food.
Despite the positive changes in recent years, Saunders that a new buyer could "make changes that improve both sales and profitability," including consolidating the number of franchisees and further expanding its international footprint.
"While Subway is clearly interested in doing a deal, it is in no particular hurry and will likely be relaxed if nothing comes of its explorations. This means buyers will need to pay a full price to get any transaction over the line," Saunders said.